Tomato-mozzarella bruschetta appetizer recipe. Very simple, healthy, and tasty Italian appetizer. Ready in 5 minutes. You may also like Classic Salmon Tartar, another easy and delicious appetizer.
Do you have a party and would like to surprise your guests by preparing elegant appetizers, refreshing drinks, or quick and easy snacks? We have a huge collection of them, please check it out-Party
Tomato-Mozzarella Bruschetta Appetizer Recipe
This is a classic, vegetarian friendly topping for Italian bruschetta.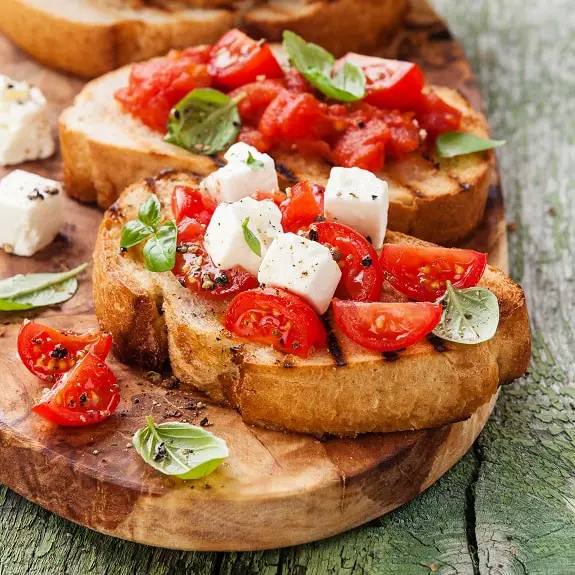 Ingredients
2 cups (500 ml) peeled and sliced tomatoes

1/3 cup (80 ml) diced fresh mozzarella cheese

4 fresh basil leaves

salt and freshly ground black pepper

4 large slices warm Bruschetta

extra-virgin olive oil
Instructions
In a large mixing bowl, combine sliced tomatoes, diced cheese, and basil.
Toss well to combine. Season to taste with salt and black pepper.
Spoon the tomato mixture over bread. Drizzle with olive oil. Serve immediately.