Chicken-stuffed portabello mushrooms recipe. Portabello caps stuffed with chicken, vegetables, cheese, and baked in an oven. Very easy and tasty appetizer. You may also like Tomato-Mozzarella Bruschetta, another simple and easy appetizer.
Do you have a party and would like to surprise your guests, by preparing elegant appetizers, refreshing drinks, or quick and easy snacks? We have a huge collection of them, please check it out-Party
Chicken-Stuffed Portabello Mushrooms Recipe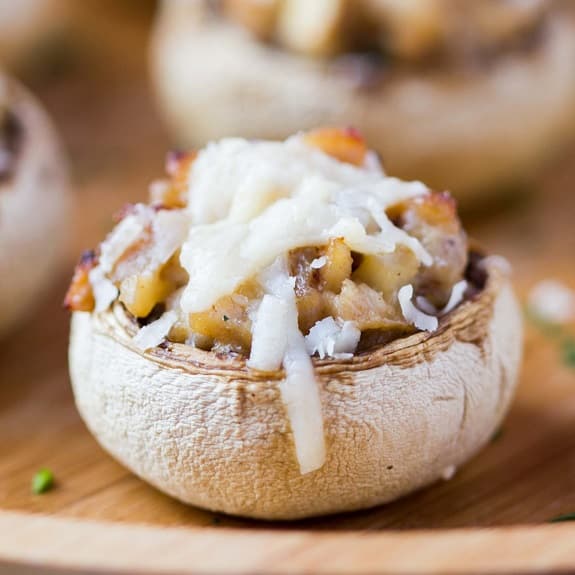 Ingredients
1 pound (480 g) medium Portabello mushrooms

2 tablespoons (30 ml) unsalted butter

1large yellow onion, peeled and finely chopped

1 clove garlic, peeled and minced

1 chicken breast half, cooked and finely diced

1½ tablespoons (45 ml) kosher salt

3/4 teaspoon freshly ground black pepper

1 tablespoon (15 ml) all-purpose flour

1 cup (250 ml) whipped cream

finely shredded Mozzarella
Instructions
Preheat an oven to 350º F (175º C).
Remove stems from mushrooms and finely chop them. Using a small melon baller, scoop out insides of  mushrooms. Leave at least half shell to allow more room for filling.
In a large nonstick skillet, melt unsalted butter over medium heat. Add chopped onion and garlic and cook, stirring occasionally, for 1 minute. Stir in diced chicken, kosher salt, and black pepper. Continue cooking and stirring occasionally, for a further 3 minutes.
Blend in all-purpose flour and whipped cream. Cook, stirring, until bubbling and thickened.
Remove the mushroom mixture from the heat and set aside. Allow cooling for a few minutes.
Spoon the mixture evenly into prepared mushroom caps.
Lightly grease a baking sheet with nonstick cooking spray. Place chicken-stuffed mushrooms in the prepared sheet. Bake in preheated oven for 10 minutes.
Top with shredded Mozzarella cheese and bake for a fuehrer 5-10 minutes or until cheese melts.
Serve hot.