Fried risotto balls appetizer recipe. Fried risotto balls, also known as arancine, is delicious vegetarian-friendly Italian dish. You may also like Tomato Mozzarella Bruschetta, another simple and easy Italian appetizer.
Do you have a party and would like to surprise your guests by preparing elegant appetizers, refreshing drinks, or quick and easy snacks? We have a huge collection of them, please check it out-Party
Fried Risotto Balls Appetizer Recipe
Serve this dish with homemade vegetarian spaghetti sauce. Yummy.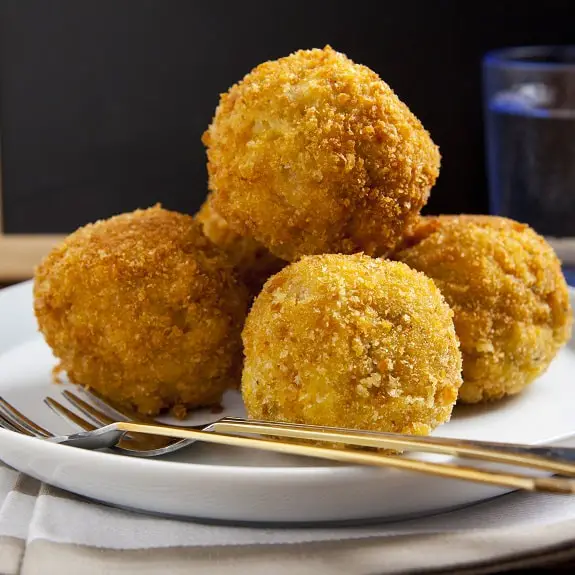 Ingredients
2 tablespoons (30 ml) olive oil

1/2 cup (125 ml) finely diced yellow onion

3/4 cup Arborio rice

1/2 cup (125 ml) dry white wine

3 cups (750 ml) warm vegetable broth

1/2 cup (125 ml) freshly grated Parmesan cheese

1 tablespoon finely chopped chives

3/4 teaspoon salt

1/2 teaspoon freshly ground black pepper

cooking oil

1 cup (250 ml) Panko breadcrumbs

2 tablespoons (30 ml) finely grated lemon zest

1 tablespoon (15 ml) extra virgin olive oil
Instructions
In a medium saucepan, heat oil over medium heat. Add diced onion and cook stirring occasionally, until translucent, for about 5 minutes.
Stir in the rice, and continue cooking and stirring, until brown and fragrant, for a further 3-5 minutes. Pour in dry white wine and bring the mixture into boil, stirring continuously until wine is absorbed, for about 2 minutes.
Reduce heat to low and simmer gently, adding vegetable broth, about 1/2 cup (125 ml) at a time, and stirring until liquid has been absorbed and rice is cooked through, for about 20 minutes.
Remove cooked rice from the heat and stir in cheese, chives, and seasoning. Mix well to combine. Set aside and allow cooling for at least 2 hours.
In a deep skillet, heat 3 inches (7.5 cm) of cooking oil over medium high heat.
Place breadcrumbs in a shallow bowl. Working with 2 teaspoons of cooled risotto mixture at a time, form into balls, then dip balls in breadcrumbs and turn to coat all over.
Working in batches, fry balls in hot oil, turning once, until golden brown.
Using a slotted spoon, remove fried risotto balls from the skillet and transfer to a paper towel-lined plate. Season with grated lemon zest (optional) and extra virgin olive oil. Enjoy!