Fried vegetable tempura appetizer recipe. Very tasty vegetarian-friendly recipe. Use as an appetizer or main dish. Use vegetables at your choice for this recipe. You may also like Tomato Mozzarella Bruschetta, another very easy and delicious appetizer.
Do you have a party and looking for elegant appetizers, refreshing drinks, or quick and easy snacks? We have a huge collection of them, please check it out-Party
Fried Vegetable Tempura Appetizer Recipe
You can use vegetable tempura with soy-based dipping sauce. To make dipping sauce, combine 1/4 cup (60 ml) soy sauce, 2 tablespoons (30 ml) freshly squeezed lime juice, and mirin and 1/2 teaspoon (2 ml) sambal oelek. Stir well.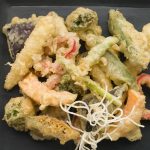 Ingredients
For Batter:

3/4 cup cornstarch, divided

1/2 cup all-purpose flour

1 teaspoon baking powder

1/2 teaspoon salt

3/4 cup (180 ml) cold soda water

1 teaspoon (5 ml) sesame oil

vegetables for frying
Instructions
In a large mixing bowl, combine 1/2 cup (125 ml) cornstarch, all-purpose flour, baking powder, and salt. Stir well.
Pour in the soda water and sesame oil. Mix just until well blended. Cover and refrigerate for1 hour.
Add oil in a Dutch oven to a depth of about 2 inches (5 cm)  heat over medium-high heat until the temperature reaches 350ºF (175º C).
Spread the remaining cornstarch on a small plate. Dredge vegetable in it, then dip in the batter.
Working in batches, add to hot oil and fry until crisp and golden, for about 1 minute per side.
Remove fried vegetables from the fryer and transfer to a paper towel-lined plate to drain. Sprinkle with salt.
Serve hot.