Pressure cooker wild rice pilaf with mushrooms and pine nuts. Wild rice with mushrooms, vegetables, and dry white wine cooked in an electric instant pot and served with pine nuts. Very delicious vegetarian recipe.
This recipe adapted from https://sweetpeasandsaffron.com/instant-pot-wild-rice-pilaf/
You may also like Instant Pot Healthy Lentil and Spinach Soup Are you looking for quick and easy pressure cooker recipes? We have a huge collection of them, please check it out-Pressure Cooker Recipes
Pressure Cooker Wild Rice Pilaf with Mushrooms and Pine Nuts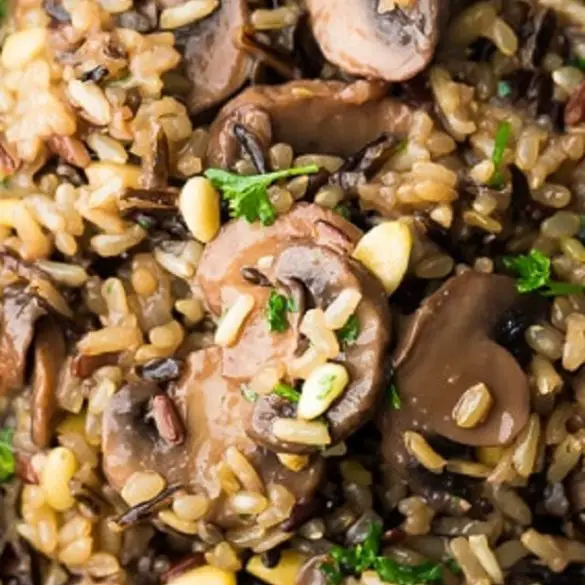 Ingredients
2 tablespoons (30 ml) olive oil

2 medium yellow onions, peeled and chopped

2 cloves garlic, peeled and minced

12 oz (0.45 kg) mushrooms, washed and sliced

¼ cup (60 ml) dry white wine

1/2 teaspoon salt

1/2 teaspoon dried thyme

2 cups uncooked wild brown rice

2 cups (500 ml) vegetable stock

1/2 cup chopped fresh parsley

1/2 cup pine nuts
Instructions
Heat the olive oil in an electric instant pot turned to the sauté function.
Add chopped onion to hot oil and cook, stirring occasionally, until soft and translucent, for about 5-7 minutes.
Stir in minced garlic and continue cooking for a further 1 minute.  pour in dry white wine and deglaze the instant pot by scrapping any browned bits for the bottom of the pot.
Add remaining ingredients, except parsley and pine nuts. Stir well.
Set the machine to cook at high pressure. Set the timer to cook for 28 minutes.
Using the Natural Release method, bring pressure to normal. Carefully unlock and open the lid. Stir in chopped fresh parsley and pine nuts.hot.