Instant pot healthy lentil and spinach soup. Golden lentils with spinach, vegetables, and spices cooked in an electric instant pot. Easy and healthy!
I used 6-quart (6 l) electric instant pot. Keep this soup in refrigerator for up to 3 days. You may also like Instant Pot Vegetarian Ratatouille
Instant Pot Healthy Lentil and Spinach Soup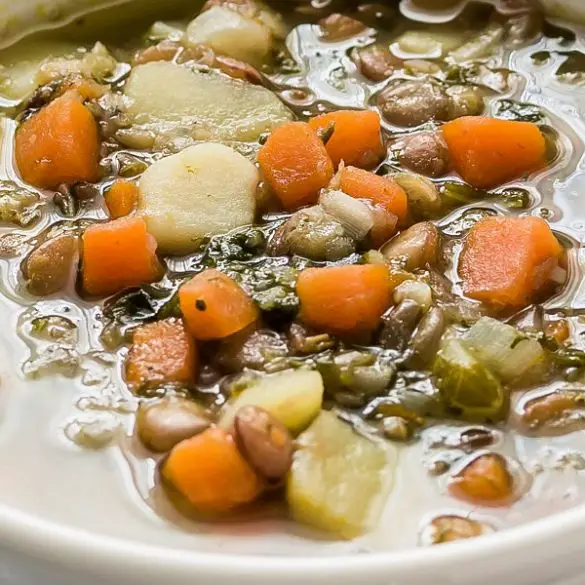 Ingredients
2 teaspoons (10 ml) olive oil

1/2 medium yellow onion, peeled and diced

1 large potato, peeled and cubed

2 medium carrots, peeled and cubed

½ cup diced celery

4 cloves garlic, peeled and minced

2 teaspoons (10 ml) ground cumin

1 teaspoon (5 ml) ground turmeric

1 teaspoon (5 ml) dried thyme

½ teaspoon kosher salt

¼ teaspoon freshly ground black pepper

1 cup dry golden lentils, rinsed under cold running water

4 cups (1 l) low-sodium vegetable broth

6 cups baby spinach
Instructions
Heat the olive oil in an electric pressure cooker turned to the sauté mode.
Add onions, potatoes, carrots, and celery. Cook, stirring occasionally, for about 5 minutes.
Add garlic, cumin, turmeric, and thyme. Season with salt and black pepper and stir well. Cook, stirring constantly, for a further 1 minute.
Add rinsed golden lentils, then pour in vegetable broth. Mix well.
Cover the pot and lock the lid. Set the machine to cook at high pressure. Set the timer to cook for 12 minutes.
Using the Quick Release method, bring pressure to normal. Carefully unlock and open the lid.
Stir in spinach.
Ladle into soup bowls. Serve hot.