The best chicken Caesar salad recipe. Famous Caesar salad with fried chicken. Very easy, healthy and delicious salad recipe. You may also like Mediterranean Tabouleh Salad, another healthy salad cooked in a slow cooker.
Looking for easy dinner recipes? Please check out our great collection-Dinner
The Best Chicken Caesar Salad Recipe
Use it as a side or main dish.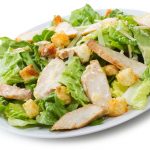 Ingredients
4 garlic cloves, peeled and crushed

2 egg yolks

2 anchovy fillets, rinsed under cold running water and finely chopped

2 tablespoons (30 ml) freshly squeezed lemon juice

salt and freshly ground black pepper, to taste

8 tablespoons (120 ml) olive oil

2 tablespoons chopped fresh parsley

1/2 cup grated Parmesan cheese

2 fried chicken breasts, sliced

3 slices white bread, cut into small cubes

1/2 cup (125 ml) unsalted butter

1 Romaine lettuce
Instructions
For the dressing: In a medium mixing bowl, combine crushed garlic, egg yolks, chopped anchovy, lemon juice, salt, and black pepper.
Beat until creamy. Stir in olive oil, drop by drop, until the dressing thickens.
In a small mixing bowl, combine chopped parsley and Parmesan cheese. Mix well and set aside.
Wipe a large nonstick skillet with paper towels. Add unsalted butter and fry bread cubes until crunchy. Remove fried croutons form the skillet and set aside.
Tear the lettuce leaves into bite-size. Toss together with prepared dressing. Add sliced chicken.
Top with fried croutons. Enjoy!