The best lobster chowder recipe. Very simple and tasty creamy seafood chowder. Quick and easy. Serve it in a small cups as a first course or in large soup bowls as a main dish. Do you like lobsters? If so, please check out this excellent recipe-Best Grilled Lobster Tail Recipe
Many people wondering, if they can prepare seafood chowder in a slow cooker. The answer is yes!
The Best Lobster Chowder in Slow Cooker
Ingredients: 1 1/2 pounds (720 g) cooked lobster meat, 3 1/2 cups (725 ml) cubed potatoes, 15 oz (450 ml) corn, drained, 3/4 cup (180 ml) chopped yellow onion, 1/2 teaspoon (3 ml) paprika, 1/2 teaspoon (3 ml) ground cumin, 1 teaspoon (5 ml) dried thyme, 1 teaspoon (5 ml) salt, 1 teaspoon (5 ml) dried basil, 1/2 teaspoon (3 ml) freshly ground white pepper, 1 teaspoon (5 ml) minced garlic, 1 jalapeno pepper, seeded and diced, 4 slices of bacon, cut, 3 1/2 cup (875 ml) half-and-half
Instructions: In a 6-quart (6 l) combine all ingredients, except lobster and bacon. Stir well. heat a large nonstick skillet over medium-high heat. Add bacon and cook until crisp, then remove from the skillet, drain and pat dry with paper towels. Chop and set aside. Pour the bacon grease into the slow cooker.
Cover the pot and cook on low-heat setting for 9-10 hours, adding the lobster meat during the last hour to cook. Mix well. Cover the cooker and continue cooking.
Turn off the slow cooker and open the lid. Stir the chowder well before serving. ladle into soup bowls. Sprinkle with chopped bacon and serve immediately. You may also like to prepare Grilled Lobster tail with Tropical Fruits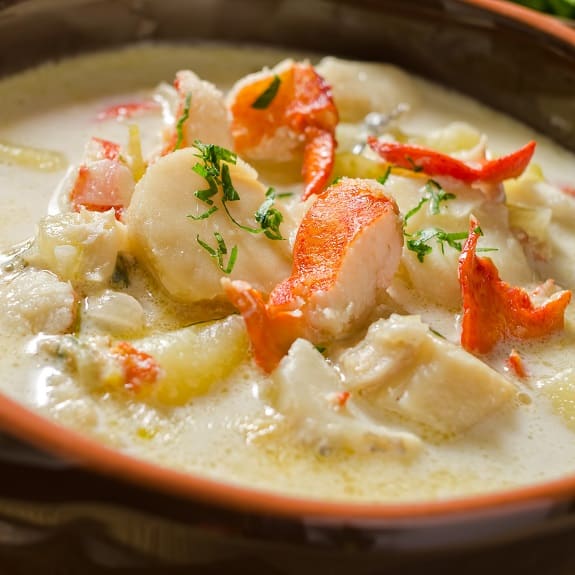 Ingredients
1 2/3 cups (410 g) diced cooked potatoes

2 tablespoons (30 ml) unsalted butter

1 1/2 cups (365 ml) minced yellow onions

2 tablespoons dried thyme leaves

1 1/2 teaspoons (8 ml) celery salt

1/4 teaspoon freshly ground black pepper

3/4 cup (180 ml) sour cream

1 1/2 cups (375 ml) whipped cream

1 cup (250 ml) milk

2 cups (500 ml) cooked and chopped lobster meat
Instructions
In a large saucepan, melt the butter over medium-heat.  add chopped onions and saute, stirring occasionally,  until soft and transparent. Stir in chopped, celery salt, and black pepper. Add cooked potatoes and mix well. In a large mixing bowl, combine the sour cream, whipped cream, milk, and lobster meat and juice. Stir well.
Add the lobster mixture to the potato mixture and stir gently. Heat through but do not boil.
Remove the chowder from the heat and ladle into soup bowls. serve hot.