Creamy carrot and broccoli soup recipe. A very healthy, easy and super delicious vegetarian soup. Like healthy vegetarian recipes? You may also like Zucchini Soup, another healthy vegan recipe cooked in a slow cooker.
Are you looking for more easy and delicious soups? We have a huge collection of them, please check it out-Soup
Creamy Carrot and Broccoli Soup Recipe
This carrot, broccoli, and cauliflower soup is full of flavor and antioxidants and perfect for cool winter evenings!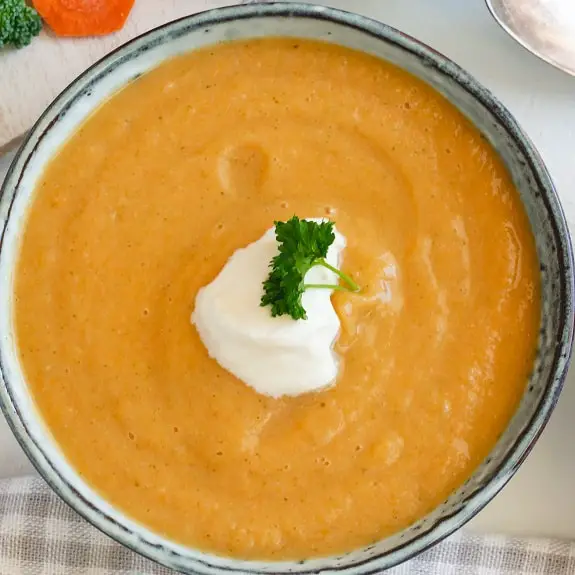 Ingredients
1/2 yellow onion, peeled and diced

2 cloves garlic, peeled and minced

3 tablespoons (45 ml) unsalted butter

2 cups chopped cauliflower

4 cups broccoli florets

1 large carrot, peeled and diced

3 tablespoons all-purpose flour

1 teaspoon red pepper flakes

1 teaspoon dried basil

6 cups (1.5 L) low-sodium fat-free chicken broth

1 teaspoon salt

1/2 teaspoon freshly ground black pepper
Instructions
Heat the butter in a deep heavy bottomed pan over medium heat.
Add onion, broccoli, garlic, cauliflower, and carrot. Season with salt and black pepper and cook, stirring occasionally, until vegetables are softened, for about 5 minutes.
Mix in all-purpose flour and fried basil. Continue cooking and stirring for a further 1 minute.
Pour in the broth and bring the mixture to a boil. Cover, then reduce heat to low and simmer for 15 minutes.
Carefully transfer cooked soup to a blender. Blend until smooth.
Ladle the soup into soup bowls. Serve hot.