Crock pot chickpea tortilla soup recipe. Chickpeas with vegetables and spices cooked in a slow cooker and served with tortilla chips, avocado, and yogurt. Very simple and delicious.
This tasty soup adapted from https://sweetpeasandsaffron.com/slow-cooker-chickpea-tortilla-soup-freezer-to-crock-pot/
You may also like Crock Pot Vegan Tikka Masala
Crock Pot Chickpea Tortilla Soup Recipe
For vegans and vegetarians, use coconut or almond-based yogurts.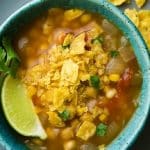 Ingredients
1 cup (250 ml) salsa

1 teaspoon ground cumin

1 teaspoon chili powder

1/4 teaspoon salt

19 oz (570 ml) can chickpeas, drained and rinsed

15 oz (450ml) cam kernel corn, drained

1 medium yellow onion, peeled and chopped

3 cloves garlic, peeled and minced

4 cups (1 L) vegetable stock

1 tablespoon freshly squeezed lime juice

For Toppings:

tortilla chips

1 ripe avocado, peeled and sliced

Greek yogurt

fresh cilantro leaves
Instructions
In a 5-6-quart (5-6L) slow cooker, combine salsa, ground cumin, chili powder, salt, drained chickpeas, corn, onion, garlic, and vegetable stock.
Stir well. Close the pot and cook on low-heat setting for 6-8 hours.
Turn off the cooker and open the lid. Stir in squeezed lime juice.
Ladle into soup bowls. Top with sliced avocado, tortilla chips, fresh cilantro, and Greek yogurt.