Crock pot Spanish chicken stew recipe. Boneless and skinless chicken thighs with vegetables cooked in a slow cooker.
This delicious chicken recipe adapted from https://sweetpeasandsaffron.com/slow-cooker-spanish-chicken-stew/
You may also like Instant Pot Easy Pumpkin Chili Recipe
Crock Pot Spanish Chicken Stew Recipe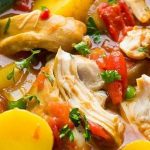 Ingredients
1 pound baby potatoes, peeled and cut into halves

8 small boneless and skinless chick thighs

2 medium carrots, peeled and sliced

2 celery stalks, sliced

10 oz (330 ml) jar roasted red pepper, drained and rinsed

1/2 red onion, peeled and diced

19 oz (570 ml) can diced tomatoes undrained

2 cups (500 ml) chicken stock

2 teaspoons smoked paprika

pinch of saffron threads

1/2 teaspoon salt

1 tablespoon (15 ml) balsamic vinegar

1 cup frozen peas, thawed and drained
Instructions
In a 6-quart (6 l) slow cooker, combine all ingredients, except vinegar and drained peas. Stir well.
Cover the pot and cook on low-heat setting for 6 hours, or until chicken is tender.
Open the lid and stir in balsamic vinegar and thawed peas, recover and cook for a further 5 minutes.
Turn off the cooker and open the lid. Stir cooked chicken stew well before serving.
serve hot.