Healthy low carb Manhattan clam chowder recipe. Very easy and tasty seafood chowder with clams, vegetables, and spices. Learn here how to prepare this chowder in a pressure cooker.
You may also like Ham and Split Soup, another healthy and delicious low carb soup.
Healthy Low Carb Manhattan Clam Chowder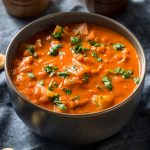 Ingredients
4 slices bacon, diced

1 large yellow onion, peeled and chopped

2 ribs celery, diced

1 green pepper, seeded and chopped

2½ cups diced white turnip

1 medium carrot, peeled and grated

14½ oz (435 ml) can diced tomatoes, undrained

3 cups (750 ml) water

1 teaspoon (5 ml) dried thyme

4 cans (6½ oz (190 ml) each) minced clams with their liquid

Tabasco sauce

1 teaspoon (5 ml) salt

1 teaspoon (5 ml) freshly ground black pepper
Instructions
Heat a large nonstick, heavy bottomed pot over medium-high heat. Add diced bacon and cook until the fat cooks out of it.
Add onion, celery, and green pepper. Sauté in the bacon fat, stirring occasionally, for 4-5 minutes.
Stir in diced turnip, undrained tomatoes, dried thyme, then pour in water. Mix well, reduce heat to low and simmer for a further 30 minutes-1 hour.
Add the clams, including the liquid, dash of Tabasco sauce, then season with salt and black pepper. Simmer for another 15 minutes.
Ladle into soup bowls. Serve hot.