Slow cooker hot and spicy cranberry punch recipe. Very easy and tasty punch with cranberry juice, red wine, honey, and spices cooked in a slow cooker. You may also like Bolognese Sauce, another delicious recipe cooked in a crock pot.
Are you looking for more slow cooker recipes? We have a huge collection of them, please check it out-Slow Cooker Recipes
Slow Cooker Hot and Spicy Cranberry Punch Recipe
Put your hands around this hot drink, share one with your friend-there is nothing better to ward off a cold weather chill. Enjoy!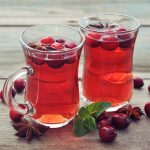 Ingredients
8 whole cardamom pods, broken into pieces

1 cinnamon stick, broken into pieces

12 whole cloves

4 cups (1 L) dry red wine

3 cups (750 ml) water

12 oz (360 ml) can frozen cranberry juice

1/3 cup (80 ml) honey

fresh orange slices (optional)
Instructions
Cut 6-inch (15 cm) square from a double thickness cotton cheesecloth for a spice bag.
Center the cardamom, cinnamon, and whole cloves on the cheesecloth square. Fold up the corners, then tie closed with a kitchen string.
In a 6-quart (6 L) slow cooker, combine spice bag, dry red wine, water, frozen cranberry juice, and honey.
Cover the pot and cook on low-heat setting for 4-6 hours.
Turn off the cooker and open the lid. Remove and discard spice bag.
Ladle punch into cups. Serve with orange slices, if desired.