Slow cooker Bolognese sauce recipe. Very easy famous Italian sauce cooked in a slow cooker. You may also like Ham and Potatoes Au Gratin, another tasty recipe cooked in a crock pot.
Are you looking for more slow cooker (crock pot) recipes? We have a huge collection of them, please check it out-Slow Cooker Recipes
Slow Cooker Bolognese Sauce Recipe
You can store this sauce sealed tightly in refrigerator and keep for up to 3 months.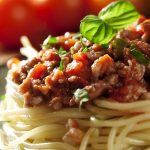 Ingredients
1 pound (480 g) ground beef and pork

2 medium carrots, peeled and chopped

1 medium yellow onion, peeled and chopped

1 stalk celery, chopped

6 cloves garlic, peeled and minced

28 oz (840 ml) can crushed tomatoes, undrained

15 oz (450 ml) can tomato sauce

14½ oz (435ml) can diced tomatoes, undrained

2 4 oz (120 ml) cans sliced mushrooms, undrained

3/4 cup (180 ml) dry white wine

1/4 cup (60 ml) water

1 tablespoon (15 ml) quick-cooking tapioca, crushed

1 teaspoon (5 ml) dried rosemary, crushed

1/2 teaspoon salt

1/2 teaspoon crushed red pepper

1/4 teaspoon freshly ground black pepper
Instructions
In a large nonstick skillet, cook ground meat, carrots, onion, celery, and garlic, stirring occasionally, until meat is brown and vegetables are tender. Using a wooden spoon, break up meat as it cooks. Drain off fat.
Remove the meat mixture from the skillet and transfer to 5-quart (5 L) slow cooker. Add the remaining ingredients and stir well.
Cover the pot and cook on low-heat setting for 8-9 hours.
Turn off the cooker and open the lid. Stir the sauce well before serving. Serve over cooked spaghetti. Enjoy!