Healthy slow cooker quinoa recipe. Very healthy low-calories quinoa cooked in a slow cooker. An excellent choice for vegetarians!
Learn how to cook quinoa in a rice cooker:
Quinoa Cooked in a Rice Cooker
makes 6 serving plates
Ingredients: 1 cup quinoa, 2 cups (500 ml) water or vegetable broth, 1/2 teaspoon salt
Instructions: Rinse the quinoa under cold running water and drain well. Pour the quinoa and vegetable broth into the rice cooker. Add salt, stir well and turn on the cooker. Cook for 30 minutes or until quinoa is cooked through.
Remove cooked quinoa form the rice cooker and set aside for a few minutes, then, using a fork, fluff it.
What You Can Do with Cooked Quinoa? With cooked quinoa, you prepare easy, healthy and quite delicious vegetarian salads. Here is an example:
Healthy Quinoa Salad Recipe
Ingredients for the Dressing: 1/4 cup (60 ml) olive oil, 1 clove garlic, peeled and minced, 2 tablespoons (30 ml) freshly squeezed lemon juice, 1 tablespoon (15 ml) balsamic vinegar, 1 teaspoon (5 ml) maple syrup (use honey as a substitute), kosher salt and freshly ground black pepper, to taste
For the Quinoa Salad: 2 cups (500 ml) cold cooked quinoa, 2 cups (500 ml) chopped fresh spinach leaves, 1 cup (250 ml) chopped cucumber, 1 cup (250 ml) chopped cherry tomatoes, 1large ripe avocado, peeled, pitted, and chopped, 2 green onions, washed and sliced, kosher salt and freshly ground black pepper to taste
Instructions: To make a dressing, in a small mixing bowl, combine all dressing ingredients. Mix well and set aside.
In a large mixing bowl, combine cooked quinoa, spinach, cucumber, tomatoes, avocado, and green onions. Mix well, then drizzle with salad dressing and stir again. Season with salt and black pepper. Serve as a side dish.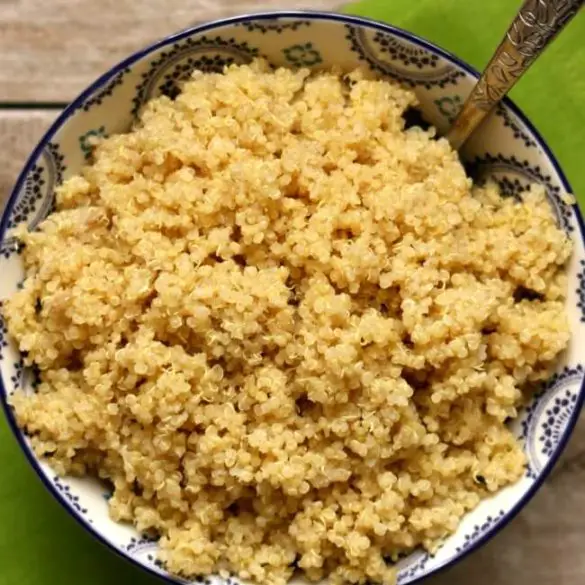 Ingredients
1 part uncooked quinoa

1 1/2 parts cold water
Instructions
Rinse uncooked quinoa well under cold running water. Drain.
Add the quinoa to the slow cooker. Pour in the water. Cover the pot and cook on low-heat setting for 4-6 hours or until quinoa is cooked through.
Turn off the slow cooker and open the lid. Transfer cooked quinoa to a serving plate.
Set aside and allow to cool. Use with vegetables in salads.
Notes
Quinoa is a great source of protein and fiber, so it will keep you full and give you sustained energy. Its very budget friendly!