Healthy tomato-rice soup recipe. Healthy, easy and very delicious rice and vegetable soup. An excellent choice for vegetarians.
Tomatoes are a great sources of vitamins C and K, also they reach of potassium and folic acid, which know as vitamin B9. Tomatoes have many health benefits, including reduced risk of heart disease and cancer.
Rice is very popular cereal grains in southern and eastern Asia. The health benefits of rice are huge. They includes supporting immune system health, reducing risk of cancer, controlling blood sugar level and much, much more.
You can prepare tomato-rice soup in a slow cooker, if desired.
Healthy Tomato-Rice Soup in Slow Cooker
Ingredients: 1 cup (250 ml) chopped yellow onion, 1 cup (250 ml) finely chopped carrots, 1 1⁄2 cup (375 ml) chopped celery, 14 1/2 oz (435 ml) can stewed tomatoes, 6 oz (180 ml) can tomato paste , 1/2 teaspoon dried oregano, 1/4 teaspoon dried thyme, salt and freshly ground black pepper, to taste, 3 cups (750 ml) water, 14 oz (420 ml) can chicken broth, 1 cup (250 ml) quick-cooking rice,
Instructions: In a 4-quart (4 L) slow cooker, combine onions, carrots, celery, undrained tomatoes, tomato paste, oregano, thyme, salt and black pepper. Stir well, then pour in water and chicken broth and stir again. Cover the pot and cook on high-heat setting for 4 hours.
Turn off the cooker and open the lid. Stir in the rice. Cover and let stand for 10 minutes or until rice is tender. Ladle tomato-rice soup into soup bowls. Serve hot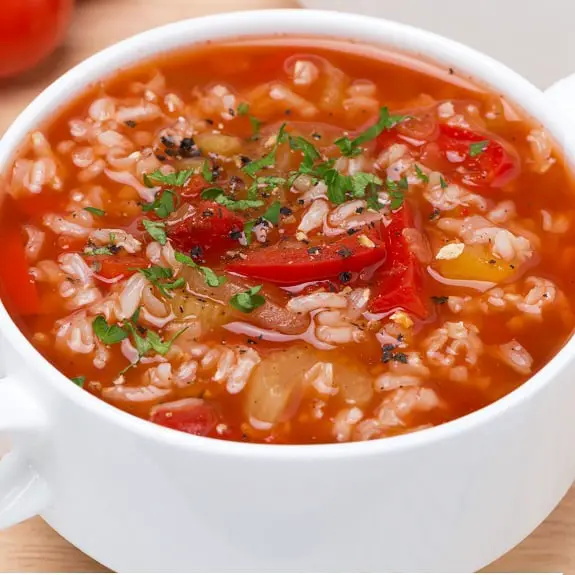 Ingredients
2 tablespoons olive oil

1 yellow onion, peeled and finely chopped

1 carrot, peeled and chopped

1 celery stick, finely chopped

1 tablespoon caster sugar

2 tablespoons balsamic vinegar

1 tablespoon tomato puree

1 pound (480 g) chopped fresh tomatoes

4 cups (1 L) vegetable stock

2/3 cup (160 ml) uncooked long-grain rice

chopped parsley, to serve (optional)
Instructions
In a large saucepan, heat the olive oil over medium heat. Add onions,carrots, and celery. Cook, stirring occasionally, until softened.
Stir in caster sugar and balsamic vinegar and cook, stirring, for a further 1 minute. Stir in the tomato puree. Add the remaining ingredients except long-grain rice, then reduce the heat to low, cover and simmer for about 10 minutes.
Finally, stir in the long-grain rice and simmer for another 10 minutes or until rice is tender.