Instant pot white bean and pumpkin stew recipe. The very quick, easy, and delicious vegetarian recipe cooked in an electric instant pot. For vegans, substitute vegan butter for unsalted butter More delicious vegetarian recipes-Baked Garlic-Parmesan Potato Wedges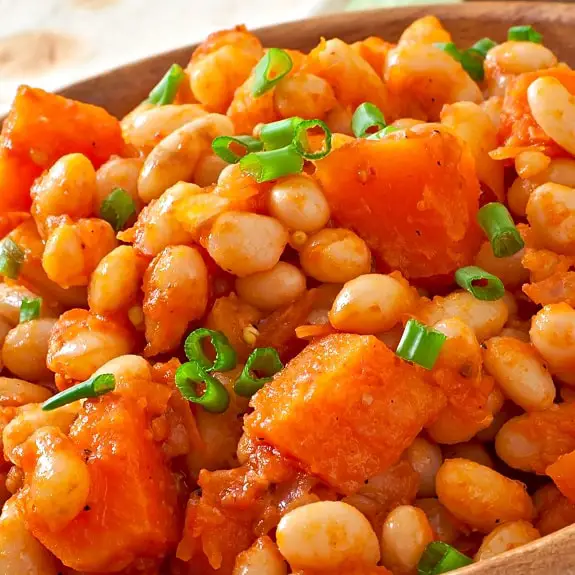 Ingredients
2 tablespoons (30 ml) unsalted butter

1 medium yellow onion, peeled and chopped

2 celery stalks, chopped

2 teaspoons (10 ml) minced garlic

1 medium pumpkin, peeled, seeded, and cubed

2 cups (500 ml) vegetable broth

15 oz (450 ml) can white beans, drained and rinsed

1 teaspoon (5 ml) sweet paprika

1 teaspoon (5 ml) dried sage

1 teaspoon (5 ml) dried thyme

1/2 teaspoon (3 ml) salt

1/2 teaspoon (3 ml) freshly ground black pepper
Instructions
In a 6-quart (6 l) pressure cooker turned to the browning mode, melt the butter.
Add the onion and celery. Cook, stirring occasionally, until the onion has softened and translucent, for about 4 minutes.7
Stir in minced garlic and continue cooking and stirring until aromatic, for a further 20 seconds. Add the remaining ingredients and stir well.
Close the instant pot and lock the lid.  Set the machine to cook at high pressure. Set the timer to cook for 12 minutes.
Using the Quick Release method, bring pressure to normal. Unlock and open the lid. Stir the stew well before serving.