Baked garlic-parmesan potato wedges recipe. Oven-roasted garlic-parmesan potatoes. Very easy and delicious vegetarian dish! Use it as an appetizer or side dish. Are you vegetarian and would like to prepare more vegetarian recipes? Try to bake Oven Roasted Sweet Potatoes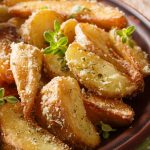 Ingredients
3 large russet potatoes, sliced into wedges

4 tablespoons (60 ml) olive oil

2 teaspoons (10 ml) salt

2 teaspoons (10 ml) garlic powder

2 teaspoons (10 ml) Italian seasoning

1/2 cup (125 ml) shredded Parmesan cheese

chopped fresh parsley
Instructions
Preheat the oven to 375ºF (190º C).
Lightly grease a large baking sheet with nonstick cooking spray and set aside. Place potato wedges in a large bowl and drizzle with olive oil, then toss well to coat.
In a small mixing bowl, combine salt, garlic powder, and Italian seasoning. Stir well. Sprinkle potato wedges with shredded Parmesan cheese, tossing to coat, then sprinkle with the dry mixture.
Arrange seasoned potatoes in the prepared baking sheet in a single layer, skin-side down. Bake in the preheated oven for 25-35 minutes, or until potatoes are golden and fork-tender.
Turn off the oven. Remove baked potato wedges and transfer them to a serving plate. Sprinkle with chopped fresh parsley.