Mussel salad with onions recipe. A very easy, healthy, and delicious seafood salad. Ready in 10 minutes! Want to try more healthy salads? Prepare Broccoli Cassarecce Pasta Salad-easy, healthy and tasty!
How to prepare mussels for the salad: Rinse fresh mussels under cold running water. Steam washed mussels in the steamer for about 6 minutes. carefully remove steamed mussels from the steamer and transfer to a bowl. Allow cooling. Remove mussels from the shells, set aside until ready to use.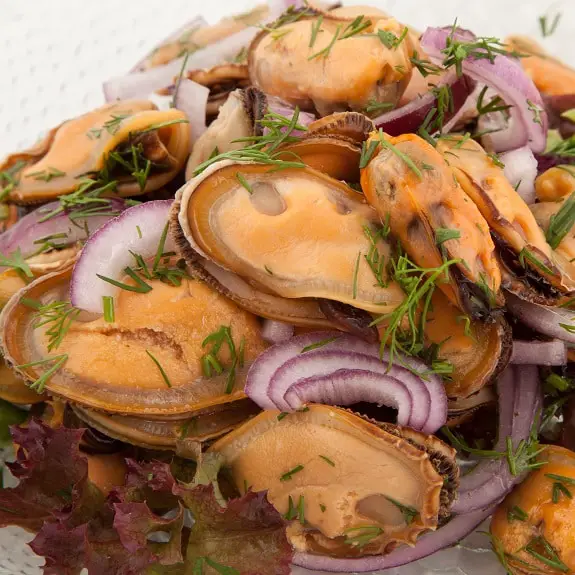 Ingredients
5 pounds (2.4 kg) steamed mussels, shelled

1/2 cup (125 ml) canola oil

1/4 cup (60 ml) red wine vinegar

1 cup (250ml) sliced red onion

1 cup (250 ml) chopped scallions

2 tablespoons (30 ml) dried thyme

salt and freshly ground black pepper, to taste

3 cloves garlic, peeled and chopped
Instructions
In a medium mixing bowl, combine canola oil, vinegar, garlic, thyme, and seasoning. Stir well.
Add sliced red onion and scallions and stir again. Set aside and allow to stay for 1 hour.
Pour the marinade over the mussels, trying to coat mussels evenly. Mussels should soak in the marinade for at least 1 hour.