Healthy glass noodle salad recipe. Very easy , healthy and delicious Thai salad also known as "Yam Woon Sen" If you like healthy seafood salads, you may also like Shrimp Salad
Please check out this tasty Thai noodle salad-Pressure Cooker Manchow Noodles Recipe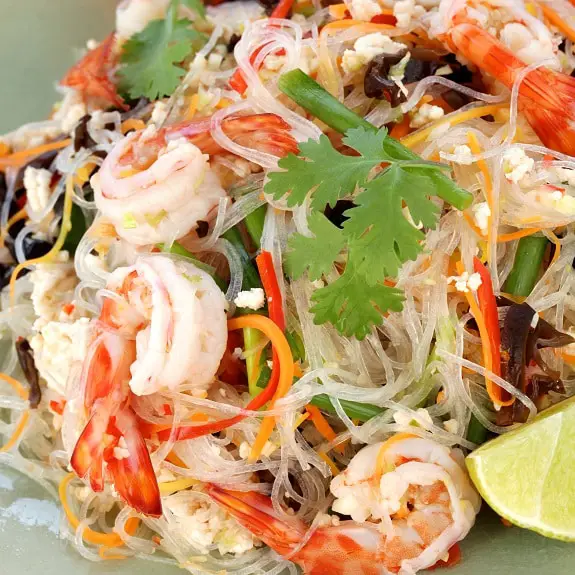 Ingredients
1 1/3 oz (40 g) glass noodles ( bean threads)

1 tablespoon (15 ml) dried shrimp (peeled and deveined)

2 cloves garlic, peeled

10 sprigs fresh cilantro, stems and leaves separated

Thai chilies, seeded

1 tablespoon (15 ml) palm sugar, finely chopped

2 tablespoons (30 ml) plus 1 teaspoon (5 ml) fish sauce

3 tablespoons (45 ml) freshly squeezed lime juice

1/4 cup (60 ml) julienned yellow onion

1 stalk Chinese celery

6 medium shrimp, peeled and deveined
Instructions
In a large bowl, soak noodles in room temperature water for about 8-10 minutes or until soft. Drain well, then, using scissors, cut to shorten them. Set aside.
In a small heatproof bowl, soak dried shrimp in hot water for 3-4 minutes or until soften. Drain well, then transfer to a mortar and pound them until very small pieces.
In a large mixing bowl, combine onion, Chinese celery and pounded shrimp. Mix well.
Cut cilantro stems into a small chunks and transfer to a mortar. Add garlic and chilies and pestle until smooth paste. Stir in the palm sugar and pound until sugar is dissolved completely. Add 2 tablespoons (30 ml) fish sauce and lime juice. Stir well to combine.
In a large pot, bring water to a boil. Add glass noodles and cook for about 2 minutes. Using tongs, remove cooked noodles from the water and transfer to a strainer. Drain well and set aside.
Add fresh shrimp to the boiling water and cook for about 1 minute or until they are pink. Remove cooked from the pan and transfer to the mixing bowl. Stir in cooked noodles and remaining fish sauce. Add cilantro leaves and toss the salad well. Enjoy!