Easy pasta salad with ham and peas. Cooked pasta with ham, peas and shredded Parmesan cheese. Very easy and delicious. I used Fusilli pasta for this recipe. If you are you looking for more tasty, easy, and healthy salad recipes, try Green Papaya Salad with Crabs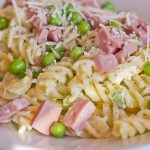 Ingredients
3 cups (750 ml) uncooked Fusilli pasta

2 cups (500 ml) frozen sweet peas, thawed

3 cups (750 ml) cooked ham, diced

1 cup (250 ml) sliced celery

1/2 cup (250 ml) shredded Parmesan cheese

3/4 cup (180 ml) mayonnaise

3/4 cup (180 ml) ranch salad dressing

1/2 teaspoon (3 ml) freshly ground black pepper
Instructions
Cook Fusilli pasta according cooking instructions, adding thawed peas during last 3 minutes of cooking. Using a colander, drain and set aside.
In a large mixing bowl, combine ham, celery, and shredded Parmesan cheese. Stir well.
In another bowl, combine the mayonnaise, salad dressing, and black pepper. Mix well.
Add cooked pasta and peas to the salad. Stir well to combine, then stir in the mayonnaise mixture. Toss well to coat.
Serve immediately. Enjoy!