Fried honey-glazed shrimp. Honey-glazed shrimp with excellent flavor of pineapple juice, teriyaki sauce, and garlic. So delicious!!! Are you looking for more easy and delicious shrimp recipe? Try to prepare our Broiled Garlic Shrimp with White Beans
Fried Honey-Glazed Shrimp Recipe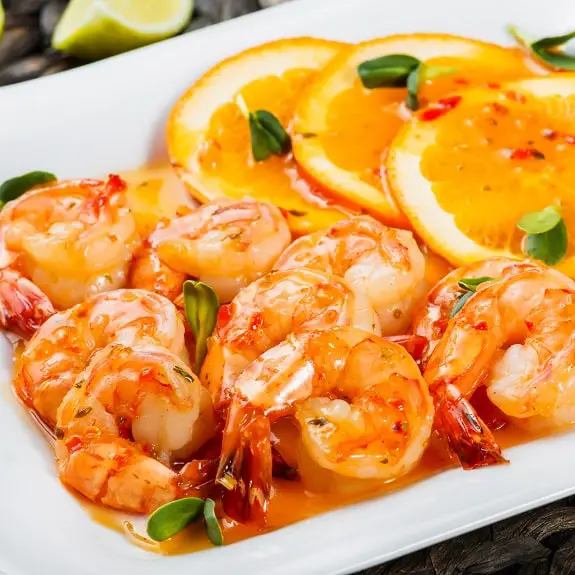 Ingredients
20 raw large shrimp, peeled and deveined

1/4 cup (60 ml) brown sugar

1/3 cup (80 ml) teriyaki sauce

1/4 cup (60 ml) pineapple juice

1 tablespoon (15 ml) clear honey

2 cloves garlic, peeled and minced

1 teaspoon (5 ml) Dijon mustard

1 tablespoon (15 ml) sesame oil

1 tablespoon (15 ml) olive oil

orange slices, for garnish

red pepper flakes
Instructions
In a large mixing bowl, combine all ingredients, except shrimp and orange slices. Mix well to combine.
Place shrimp into plastic, seal proof container. Pour the honey marinade over the shrimp. Cover the container and refrigerate for at least 1 hour.
Remove marinated shrimp from the refrigerator and transfer to a large saucepan. Pour the marinade over. Saute over medium heat for about 3 minutes, then turn shrimp over and cook for a further 2-3 minutes or until shrimp is cooked through.
Remove cooked shrimp from the pan and transfer to a serving plate. Continue simmering the cooking liquid until slightly thickened. Remove the pan from the heat. Pour honey sauce over cooked shrimp. Garnish with orange slices and serve immediately. More excellent seafood recipes - Seafood