Easy creamy zucchini soup recipe. Vegetarian savory and versatile soup. In the summer, pour it into a mug and drink it cold and microwave it when wintertime is coming.
If you don't like creamy zucchini soup and don't want to use half-and-half, you can prepare  Simple Zucchini Soup:
Simple Zucchini Soup Recipe
Ingredients: 4 cups (1 L) chopped fresh zucchini, chunked, 2 cups (500 ml) peeled and chopped Spanish onion,  4 cups (1 L) chicken stock,  1-2 teaspoons (5-10 ml) dry summer savory leaves, chopped, 1 tablespoon (15 ml) chopped dry basil leaves, 1/2 pound (240 ml) cream cheese, at room temperature (optional)
Instructions: In a large pan, combine chunked fresh zucchini, onion, chicken stock, savory, and chopped dry basil. Stir well and cook over low heat until vegetables are soft, for about 30 minutes.
If you do not hurt this vegetable soup, cover the pan and forget it for a couple of hours, then ladle it into soup bowls and serve with crusty bread.
Easy Creamy Zucchini Soup Recipe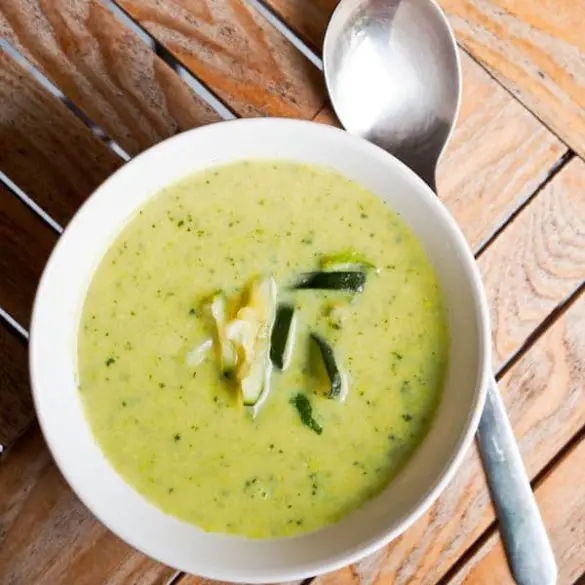 Ingredients
1/4 cup (60 ml) unsalted butter

1 medium yellow onion, peeled and chopped

1½ pound (720 g,) washed and sliced

28 oz (840 ml) low-sodium chicken broth

1/8 teaspoon salt

1/8 teaspoon freshly ground black pepper

1/2 teaspoon ground nutmeg

1/2 cup (125 ml) half-and-half
Instructions
In a large nonstick skillet, melt the butter over medium heat. Add chopped yellow onion and, stirring occasionally, and cook, stirring occasionally, until golden. Increase heat to medium-high, then add sliced zucchini and saute until limp, for about 10-15 minutes. Pout in the chicken broth, then stir in salt, black pepper, and ground nutmeg. Reduce the heat to low and simmer for about 15 minutes, stirring occasionally. Add half-and-half, stir well and let the mixture to cool. Pour creamy zucchini mixture into a blender. Puree until smooth.  Turn off the blender, then pour zucchini mixture into a large jar. Cover and refrigerate for at least 4 hours, to allow the flavors to blend. serve creamy zucchini soup cold or hot.