Shrimp-stuffed avocado appetizer recipe. A very easy and delicious elegant appetizer with cooked shrimp and spices. Garnish it with fresh avocado slices and smoked salmon. Do you like appetizers? So, you may also like Smoked Salmon Canapés
Do you have a party and looking for more elegant appetizers, refreshing festive drinks, or quick and easy snacks? We have a huge collection of them, please check it out-Party
Shrimp-Stuffed Avocado Appetizer Recipe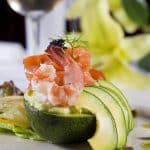 Ingredients
1/2 pound (240 g) raw shrimp, shelled and deveined

4 ripe avocados, halved and pitted

squeezed juice of 1/2 lime

1 tablespoon chopped fresh cilantro

1/2 tablespoon chopped fresh chives

smoked salmon, for garnish

dash of smoked paprika

salt and freshly ground black pepper, to taste
Instructions
In a medium saucepan, bring salted water to a boil over medium-high heat.
Add shrimp and cook until they turn pink and cooked through. Drain, using a colander, then set aside.
Scoop out most of avocado flesh and transfer to a medium mixing bowl. Add lime juice, chopped cilantro, chives, paprika, salt, and black pepper. Stir well.
Divide avocado mixture between 4 avocado halves. Top with cooked shrimp, avocado slices, and smoked salmon.
Serve immediately. Enjoy!