Roasted hot chicken wings recipe. Chicken wings with spices roasted in an oven. Use it as and appetizer or main dish. Do you have a party and looking for more easy and tasty appetizers? Try to prepare Prosciutto-Wrapped Melon, a very easy and elegant appetizer.
Also, please check out our huge collection of appetizers, refreshing drinks, and quick and easy snacks- Party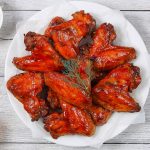 Ingredients
1/2 cup (125 ml) unsalted butter

1 cup (250 ml) whole can sugar

1/2 cup (125 ml) dry red wine

1/2 cup (125 ml) reduced-sodium soy sauce

1/4 cup (60 ml) freshly squeezed lemon juice

2 teaspoons dry mustard

2 oz (60 ml) hot sauce

4 pounds (1.81 kg) chicken wings

2 teaspoons sea salt

1/4 teaspoon freshly ground black pepper

2 teaspoons garlic powder
Instructions
Preheat the oven to 350º F (175º C).
In a small saucepan, melt the butter over medium-high heat. Add sugar, dry red wine, soy sauce, lemon juice, mustard, and hot sauce. Cook, whisking, until sugar is dissolved.
Arrange chicken wings on a large baking sheet. Pour the hot sauce over, then sprinkle evenly with salt, black pepper, and garlic powder.
Bake in the preheated oven for 35 minutes, then reduce heat to 250º F (125º C) and continue baking for a further4 hours.