30 Minutes chicken penne pasta with pesto. Cooked Italian pesto pasta tossed fried chicken and delicious homemade pesto sauce. You may also like Pasta Fagioli, another tasty Italian recipe cooked in a slow cooker.
Are you looking for more easy and yummy Italian recipes? We have a huge collection of them, please check it out-Italian Cuisine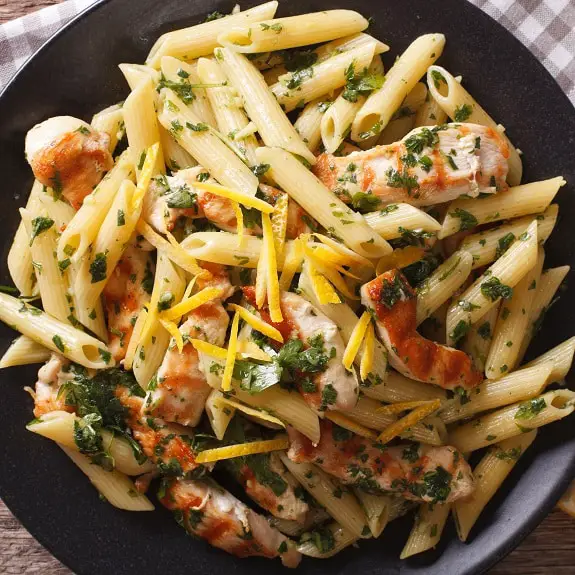 Ingredients
For Pesto Sauce:

7 oz (210 g) chopped fresh basil leaves

3½ oz (105 g) grated Parmesan cheese

3½ oz (105 g) toasted pine nuts

2 cloves garlic, peeled and crushed

1 green chili, seeded

salt and freshly ground black pepper, to taste

2/3 cup (160 ml) olive oil

For Chicken and Pasta:

18 oz (540 g) uncooked penne pasta

2 cloves garlic, peeled and crushed

4 boneless and skinless chicken breasts, cut into strips

1 tablespoon dried Italian mixed herbs

salt and freshly ground black pepper

grated zest and juice of 1 lemon

shredded Parmesan cheese
Instructions
Bring a large pot of the water to a boil over medium-high heat. Cook the pasta in boiling water, according to packing directions. Using a colander, drain cooked penne pasta and rinse under cold running water. Set aside.
For the Pesto: In a food processor, combine all pesto sauce ingredients, except olive oil. Process until smooth. Add the olive oil, stirring until you have a thick paste. Remove pesto sauce from the food processor and transfer to a plastic container. Cover and refrigerate until ready to use.
In a large saucepan, heat 1 tablespoon olive oil over medium heat. Add crushed garlic and sauté, stirring occasionally, for 1 minute.
Add chicken strips, dried Italian herbs, then season with salt and pepper. Fry, stirring occasionally, until chicken is golden brown, for about 3 minutes.
In a large saucepan, add enough pesto sauce to cover pasta and chicken. Stir in lemon zest and juice. Sprinkle with grated Parmesan cheese. Serve warm.