Prosciutto-wrapped melon appetizer recipe. A very elegant and easy appetizer. Ready in a few minutes! This recipe belongs to a low-carb diet.
You may also prepare a salad, using melon and prosciutto:
Melon Prosciutto Salad Recipe
Ingredients: 1/2 ripe cataloupe, seeded and peeled, 1/2 ripe honeydew (seeded and peeled, 1/2 pound (240 g) prosciutto, chopped
Method: Cut melons into 1-inch (2.5 cm) chunks and place them in a large bowl. Sir in chopped prosciutto. Toss well. Serve immediately. Enjoy!
Looking for easy low-cab diet recipes? Try to prepare The Best Chicken Noodles Soup, do you have a party and looking for more refreshing drinks, elegant appetizers, or easy and delicious snacks? We have a huge collection of them, please check it out-Party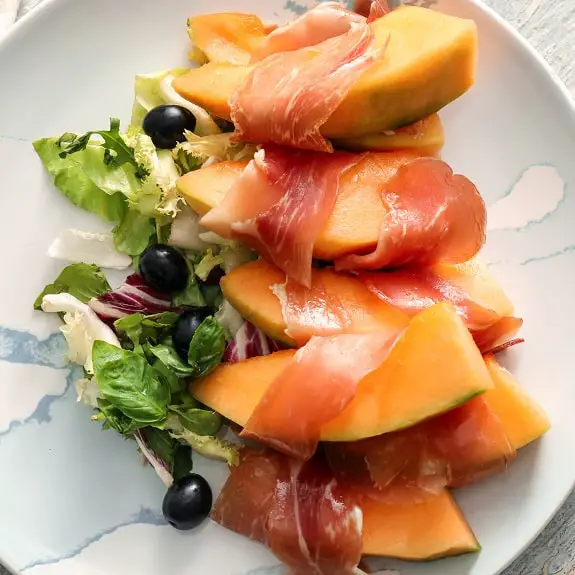 Ingredients
1 ripe cantaloupe

1/2 pound (240 g0 thinly sliced prosciutto (12 slices)
Instructions
Cut the melon into 12 wedges, removing seeds and rind.
Wrap each melon wedge in the slice of Italian prosciutto.
Serve immediately.