Slow cooker beef chicken taco salad recipe. Chicken breasts with beer and spices cooked in a slow cooker and served with yummy homemade Cilantro Vinaigrette. This delicious recipe adapted from https://sweetpeasandsaffron.com/slow-cooker-beer-chicken-taco-salad-with-cilantro-vinaigrette/
You may also like Instant Pot Pumpkin Pecan Cheesecake
Slow Cooker Beer Chicken Taco Salad Recipe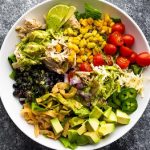 Ingredients
To Make Chicken in Slow Cooker:

1 pound (480 g) boneless and skinless chicken breasts or thighs

6 oz (180 ml) light beer

1/2 teaspoon chili powder

4¾ oz (140 ml) can green chiles, undrained

1/4 teaspoon salt

1/4 teaspoon freshly ground black pepper

For the Cilantro Vinaigrette:

1/2 cup fresh cilantro leaves

1/4 cup (60 ml) white wine vinegar

1/4 cup (60 ml) olive oil

1 clove garlic, peeled and minced

2 teaspoons freshly squeezed lime juice

3 tablespoons clear honey

1/2 teaspoon Dijon mustard

1/4 teaspoon salt

To Make Taco Salad:

4 cups Romain lettuce

2 cups tortilla chips

1 cup halved cherry tomatoes

1 cup shredded Parmesan cheese

1 cup (250 ml) black beans, drained and rinsed

1 cup (250 ml) corn, drained

1-2 ripe avocados, peeled, pitted, and cubed

sliced jalapeños

1 small red onion, peeled and sliced

salsa (optional)
Instructions
In 2½-quart (2½ L) slow cooker, combine chicken breasts, beer, chili powder, green chiles, salt, and black pepper.
Mix well to combine.
Cover the pot and cook on low-heat setting for 3-4 hours or until chicken is tender.
Turn off the cooker and open the lid. Using tongs, transfer cooked chicken to a cutting board. Shred with two forks and place in a large bowl. Pour the cooking liquid over. Toss well and set aside.
To make the Cilantro Vinaigrette:
In a blender, combine all vinaigrette ingredients. Blend until smooth.
For Taco Salad.
In a large bowl, combine the vegetables, shredded chicken, and prepared cilantro vinaigrette. Toss well.
Serve with nachos, sour cream, guacamole, and salsa. Enjoy!