Instant pot vegan creamed beets recipe. Very simple, yummy, and healthy vegan recipe cooked in an electric instant pot. I served it with prunes, walnuts, and vegan cream.
You may also like Pressure Cooker Spicy Thai Chicken Curry
Instant Pot Vegan Creamed Beets Recipe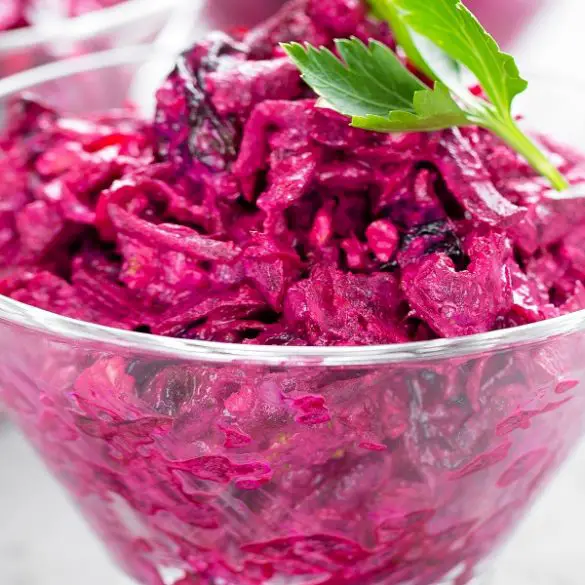 Ingredients
4 medium raw beets, unpeeled, stems cut off

1 medium red onion, peeled and finely diced

2 tablespoons (30 ml) olive oil

2 cloves garlic, peeled and finely diced

1/3 cup (80 ml) vegan cream

freshly squeezed juice of 1/2 lemon

1 teaspoons salt

1/4 teaspoon freshly ground black pepper

1/4 teaspoon ground nutmeg

chopped fresh prunes and walnuts, for garnish
Instructions
Pour 1 cup (250 ml) water into the instant pot.
 Place the trivet on top. Place beets on the trivet.
Close the pot and lock the lid. Set the machine to cook at high pressure. Set the timer to cook for 20 minutes.
Using the natural Release method, bring pressure to normal. Carefully unlock and open the lid.
Remove cooked beets from the cooker and set aside. Allow to cool.
Peel cooked beets under cold running water, then grate them.
Wipe inside of pressure cooker with paper towels.
Switch the instant pot to the sauté function. Add olive oil and onions, Cook, stirring occasionally, for  3-4 minutes.
Stir in garlic, salt, black pepper, ground nutmeg, and grated beets. Continue cooking and stirring, for a further 1 minute.
Turn off the pressure cooker. Mix in vegan cream and lemon juice.
Serve with chopped prunes and walnuts.