Slow cooker ginger-apple tea recipe. A very easy and delicious Turkish tea with cinnamon sticks and apple juice cooked in a slow cooker. You may also like Apple Banana Cinnamon Smoothie, another easy and healthy drink.
Are you looking for more easy and delicious slow cooker recipes? We have a huge collection of them, please check it out-Slow Cooker Recipes
Slow Cooker Ginger-Apple Tea Recipe
This recipe includes juice of 1 lemon. Use a vegetable peeler to remove peel from the lemon, then juice the lemon, cover and refrigerate until ready to use. Also, substitute apple cider for apple juice, if desired. I used homemade apple cider. Learn, please how to make it- Easy Homemade Hot Apple Cider Please read a full recipe below.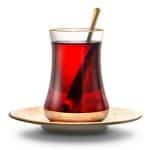 Ingredients
1 lemon

1/3 cup (80 ml) coarsely chopped fresh ginger

4-inch (10 cm) stick cinnamon, broken

1/2 teaspoon whole cloves

4 cups (1 L) apple juice or apple cider

6 tea bags

4 cups (1 L) water
Instructions
To make a spice bag, cut a 6-8-inch (15.5-20 cm) square from a double thickness of cotton cheesecloth.
Place lemon peel, ginger, cinnamon, and cloves in the centre of cheesecloth square. Fold up the corners, then tie closed with cotton kitchen string.
In a 4-quart (4 L) slow cooker, combine spice bag, apple juice, and 4 cups (1 L) water. Cover the pot and cook on low-heat setting for 5-6 hours.
Turn off the cooker and open the lid. Discard the spice bag. Add chilled lemon juice. Add tea bags. Cover the slow cooker and allow staying for 5 minutes.
Open the cooker and remove tea bags. Ladle spiced tea into glasses. Serve hot.