Slow cooker healthy citrus cider recipe. Very easy and tasty spiced drink cooked in a slow cooker. You may also like Ginger-Apple Tea, another spiced warm drink cooked in a slow cooker.
Looking for more easy and delicious slow cooker recipes? We have a huge collection of them, please heck it out-Slow Cooker Recipes
Slow Cooker Healthy Citrus Cider Recipe
An excellent drink for any holiday and cold winter evening, spiced and flavoured. Please read full recipe below.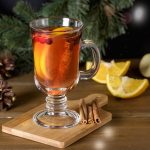 Ingredients
8 cups (2 L) apple cider or apple juice

1 cup (250 ml) freshly squeezed orange juice

1/2 cup (125 ml) freshly squeezed lemon juice

1/4 cup (60 ml) honey

8 inches (20.32 cm) stick cinnamon, broken into pieces

8 whole cloves

3 slices fresh ginger

orange slices, for garnish
Instructions
In a 4-quart (4 L) slow cooker, combine apple cider, orange juice, lemon juice, and honey.
Stir until the honey dissolved completely. To make a spice bag, cut a 6-8-inch (15-20 cm) square from a double thickness cotton cheesecloth. Place cinnamon, whole cloves, and sliced ginger, then fold up the corners. Tie with a kitchen string and add the bag to the slow cooker.
Cover the pot and cook on low-heat setting for 5-6 hours.
Turn off the cooker and open the lid. Discard the spice bag. Ladle citrus cider into mugs. Garnish with sliced oranges and fresh cranberries. Serve hot.