Slow cooker marshmallow hot cocoa recipe. Delicious hot Mexican drink prepared in a slow cooker and served with marshmallows. You may also like Ginger-Apple Tea, another healthy drink cooked in a slow cooker.
Looking for more easy and tasty slow cooker recipes? We have a huge collection of them, please check it out-Slow Cooker Recipes
Slow Cooker Marshmallow Hot Cocoa Recipe
You can also top this drink with whipped cream, fresh raspberries, grated chocolate, finely crushed peppermint candy canes, or hot fudge ice cream topping.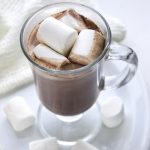 Ingredients
1 cup (250 ml) premium unsweetened cocoa powder

1/4 cup sugar

1/4 teaspoon salt

1/2 cup (125 ml) hot water

4 cups (1 L) half-and-half

4 cups (1 L) whole milk

1/3 cup (80 ml) bittersweet chocolate pieces

2 teaspoons vanilla

marshmallows, for serving
Instructions
In a 4-quart (4 L) slow cooker, combine cocoa powder, sugar, and salt. Mix well.
Stir in the hot water until mixture forms a paste, then whisk in half-and-half and milk.
Cover the pot and cook on low-heat setting for 5-6 hours. Open the lid and add bittersweet chocolate, whisking until it is melted.
Turn off the slow cooker. Pour the hot cocoa into mugs. Top with marshmallows. Serve hot.