Slow cooker keto beef and broccoli recipe. Beef flank steak with broccoli florets cooked in a slow cooker. Very easy and tasty low-carb (3 g) keto diet recipe.
You may also like Keto General Tso Recipe
Slow Cooker Keto Beef and Broccoli Recipe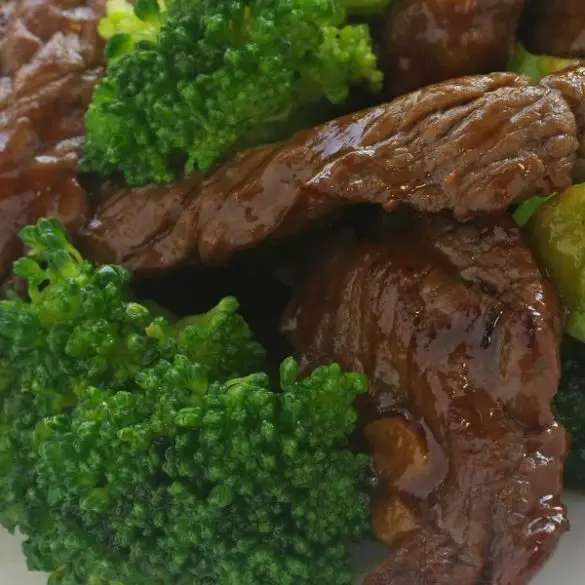 Ingredients
2 pounds (960 g) flank steak, cut against the grain

1 teaspoon (5 ml) salt

1/2 teaspoon (3 ml) freshly ground black pepper

1 tablespoon (15 ml) coconut oil

3/4 cup (180 ml) low-sodium beef broth

1/4 cup (60 ml) coconut aminos

1 tablespoon (15 ml) sesame oil

1 tablespoon (15 ml) Swerve brown

3 cloves garlic, peeled and minced

1 tablespoon (15 ml) ginger paste

4 cups broccoli florets

1 teaspoon (5 ml) Xanthum gum
Instructions
In a large nonstick skillet, heat the coconut oil over medium-high heat. Add sliced and cook, stirring occasionally, until browned, for about 1-2 minutes.  Season with salt and black pepper, then transfer browned beef to 6-quart (6 L) slow cooker.
In a large mixing bowl, combine beef broth, coconut aminos, sesame oil, minced garlic, Swerve brown, and ginger paste. Mix until smooth.
Pour the sauce over browned meat in the slow cooker. Cover the pot and cook on low-heat setting for 3-4 hours or until meat is cooked through.
Open the lid. Remove cooked beef from the cooker and transfer to a large bowl.
In a small mixing bowl, combine Xanthum gum and 2 tablespoons (30 ml) of cooking liquid. Mix well, then whisk the mixture into the slow cooker to thick the sauce.
Add broccoli florets and meat back to the cooker. Close the lid and cook for a further 20-30 minutes.
Serve hot.