Slow Cooker keto Mongolian beef recipe. Beef sirloin steak with spices cooked in a slow cooker. Just dump all ingredients in the pot and cook!
You may also like Pressure Cooker Manchow Noodles
Slow Cooker Keto Mongolian Beef Recipe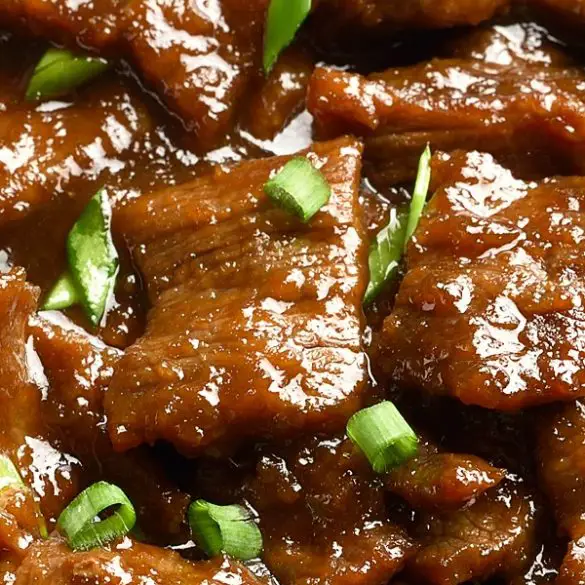 Ingredients
1½ pounds (720 g) beef sirloin steak, thinly sliced against the grain

1/3 cup Swerve Brown (brown sugar replacement)

1/4 cup (60 ml) water

1/4 cup (60 ml) coconut aminos

2 tablespoons sesame oil

2 cloves garlic, peeled and minced

1/2 teaspoon ground ginger

1/4 teaspoon red pepper flakes

1/4 tsp xanthan gum

2 green onions, chopped
Instructions
Place sliced beef in a slow cooker.
In a medium mixing bowl, combine brown sugar substitute,  water, coconut aminos, sesame oil, garlic, ginger, and red pepper flakes. Whisk well.
Pour the mixture over beef.
Close the pot and cook on low-heat setting for 4-6 hours.
Turn off the cooker and open the lid.
Spoon some liquid out of the pot into a small bowl. Stir in xanthan gum until well combined. Pout the mixture back into the pot and mix well to coat.
Remove cooked beef and transfer to serving plates. Pour the sauce over. Sprinkle with chopped green onions. Serve hot.