Instant pot spicy chicken stew (dakbokkeumtang). Bone-in chicken parts with vegetables and spices cooked in an electric pressure cooker.
You may also like Instant Pot Cauliflower Tikka Massala Recipe
Instant Pot Spicy Chicken Stew (Dakbokkeumtang)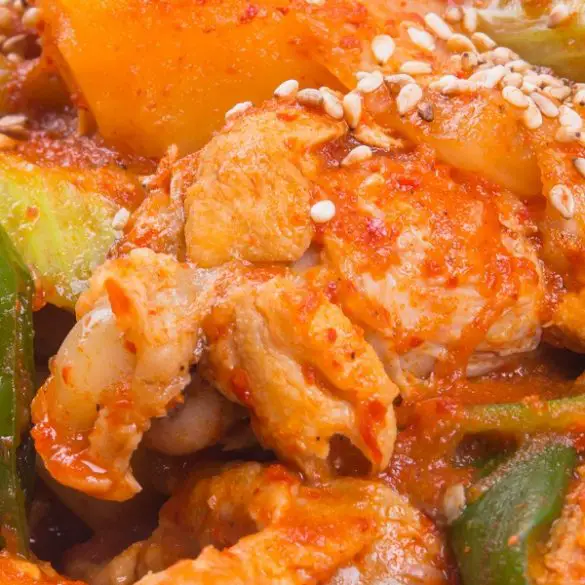 Ingredients
2½ pounds (1.44 kg) bone-in chicken parts, cut into small pieces

6 oz (180g) potatoes, peeled and chunked

1/2 medium yellow onion, peeled and sliced

2 small carrots, peeled and chunked

1 green bell pepper, cored and sliced

For Sauce:

3 tablespoons gochugaru (use cayenne pepper as a substitute)

3 tablespoons granulated sugar

2 tablespoons gochujang (use Sriracha sauce as a substitute)

1/2 tablespoon doenjang (use Miso paste as a substitute)

1 oz (30 ml) rice wine

2 oz (60 ml) oyster sauce

1 tablespoon minced garlic

1 teaspoon grated ginger

freshly ground black pepper, to taste

1/4 cup (60 ml) low-sodium chicken broth

1 tablespoon sesame oil

1 teaspoon sesame seeds
Instructions
In a large mixing bowl, combine all sauce ingredients, except sesame oil and seeds.
Stir well and set aside.
Rinse chicken pieces under cold running water, then pat dry with paper towels.
Heat 1 tablespoon canola oil in an electric instant pot turned to the sauté mode. Working in batches, sear chicken pieces.
Place seared chicken in the pot, then add potatoes, onion, green bell pepper, and carrots. Pour the sauce over. Mix until vegetables and chicken coated evenly.
Close the cooker and lock the lid. Set the machine to cook at high pressure. Set the timer to cook for 10 minutes.
Using the Quick Release method, bring pressure to normal. Carefully unlock and open the lid. Stir in the remaining ingredients (sesame oil and seeds). Mix well.
Serve hot.