Slow cooker orange-glazed baby carrots recipe. Orange-glazed baby carrots with spices cooked in a slow cooker. Very healthy vegetarian recipe. Looking for more easy and healthy vegetarian recipes? Try to prepare Healthy Quinoa in a slow cooker.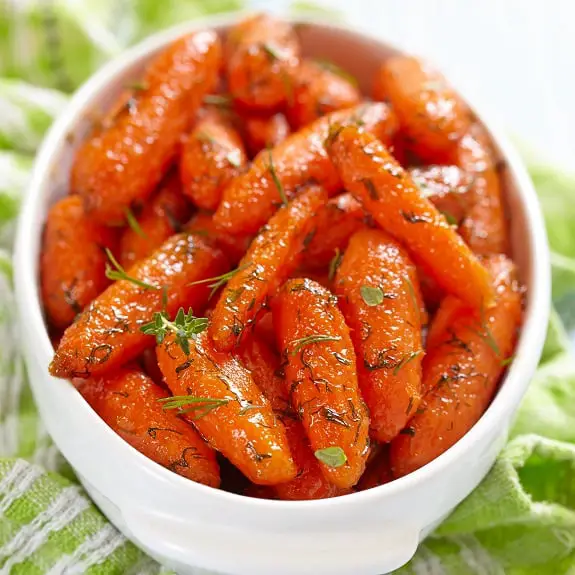 Ingredients
1 pound (480 g) baby carrots

3/4 cup (180 ml) orange juice

1 tablespoon (15 ml) margarine

1/2 cup (125 ml) light brown sugar

1/2 teaspoon (3 ml) ground cinnamon

1/4 teaspoon (1 ml) ground mace

2 tablespoons (30 ml) cornstarch

1/4 cup (60 ml) water

fresh chopped dill

salt and ground white pepper, to taste
Instructions
In a 4-6-quart (4-6 L0 slow cooker, combine all ingredients, except cornstarch, water, salt, and white pepper.
Cover the pot and cook on low-heat setting for  3 hours or until carrots are crisp-tender.
Increase the heat to high and cook for a further 10 minutes.
Open the lid and stir in combined cornstarch and water, stirring 2-3 minutes.
Season to taste with salt and white pepper. Sprinkle with chopped dill.
Turn off the slow cooker.
Transfer glazed carrots to a serving plate. Serve immediately.
Looking for more delicious slow cooker recipes? We have a huge collection of them, please check it out-Slow Cooker Recipes