Slow cooker pasta with eggplant sauce recipe. Cooked penne pasta served with tasty homemade eggplant sauce. In this recipe, eggplant chunks cook in traditional spaghetti sauce.
You may also like to visit a huge collection of recipes cooked in a slow cooker-Slow Cooker Recipes, also, try to prepare an excellent Orange-Glazed Baby Carrots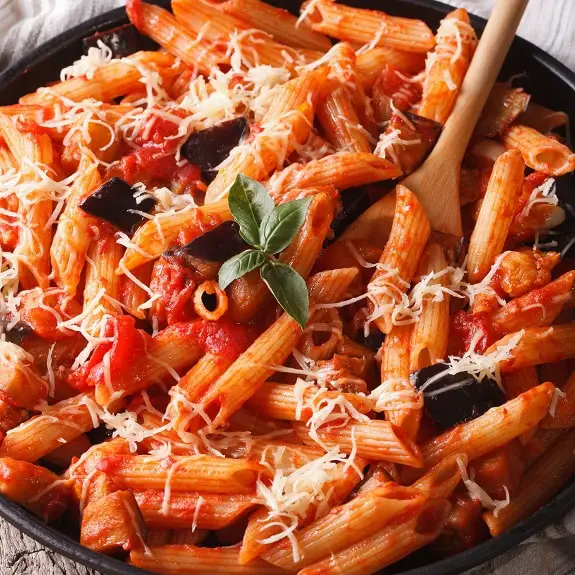 Ingredients
1 medium eggplant, cut into cubes

1 medium yellow onion, peeled and chopped

28 oz (840 ml) can Italian-style tomatoes, cut up

6 oz (180 ml) can Italian-style tomato paste

2 cloves garlic, peeled and minced

1/4 cup (60 ml) dry red wine

1/4 cup (60 ml) water

1½ teaspoons (8 ml) dried oregano, crushed

2 tablespoons (30 ml) snipped fresh parsley

salt and freshly ground black pepper, to taste

4 cups (1 L) hot cooked penne pasta

1/3 cup (80 ml) shredded Parmesan cheese
Instructions
In a 4-quart (4 L) slow cooker, combine cubed eggplant, onion, undrained tomatoes, tomato paste, garlic, wine, water, and crushed oregano. Mix well.
Cover the pot and cook on low-heat setting for 7-8 hours.  Turn off the slow cooker. Stir in snipped fresh parsley, then season to taste with salt and black pepper. Stir well.
Serve over cooked pasta, then sprinkle with shredded Parmesan.