Slow cooker sugar-roasted almonds recipe. Make this easy and delicious snack to have on hand when you crave something crunchy. Keep the roasted nuts in the refrigerator for up to one week. Use a 4-quart (4 L) slow cooker to prepare this recipe. You may also like Spicy Caramelized Pecans Appetizer
To toast nuts, place them in a single layer in a shallow baking pan. Bake in the preheated oven (350 F (175 C)) for 5-10 minutes, stirring once to prevent nuts to burn.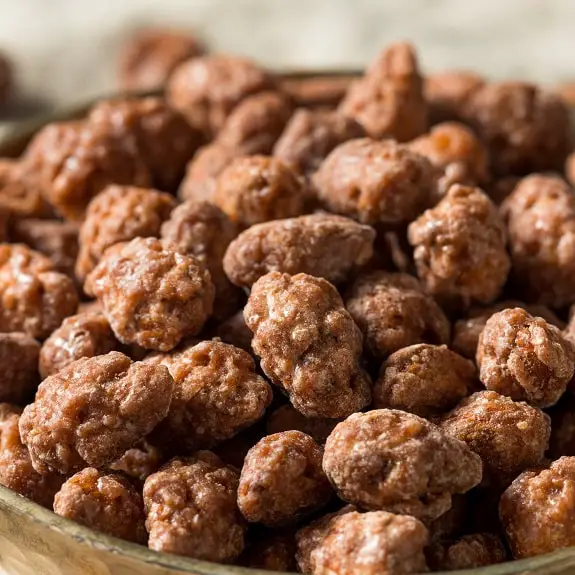 Ingredients
4 cups (1 L) whole, unblanched almonds, toasted

1 egg white

1 teaspoon (5 ml) water

1/3 cup (80 ml) granulated sugar

1/3 cup (80 ml) packed brown sugar

2 teaspoons (10 ml) ground cinnamon

1/2 teaspoon (3 ml) salt
Instructions
Place toasted almonds in a 4-quart (4 L) slow cooker.
In a medium mixing bowl, combine egg white and water. Using a wire whisk, beat until frothy, then stir in the remaining ingredients. Pour the mixture over nuts and mix gently to coat.
Cover the pot and cook on low-heat setting for 4-4½ hours, stirring once halfway through cooking.
Turn off the slow cooker and open the lid. Remove sugar-roasted almonds from the cooker and spread on waxed paper, separating into small clusters to cool.