Vegan spicy carrot salad recipe.  This healthy carrot salad belongs to Danish cuisine. Light and refreshingly spiked with ginger, these delicious carrot salad is a perfect accompaniment, along with Creamy Potato Salad.
Vegan Spicy Carrot Salad Recipe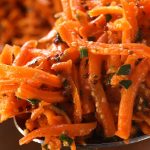 Ingredients
2 tablespoons apple cider vinegar

1/2 teaspoon Dijon mustard

1/2 teaspoon granulated sugar

salt and coarsely ground black pepper, to taste

1/4 cup (60 ml) vegetable oil

2 tablespoons chopped fresh flat-leaf parsley

1 tablespoon minced and peeled fresh ginger

4 cups coarsely grated carrots
Instructions
In a medium-size mixing bowl, combine cider vinegar, Dijon mustard, sugar, and seasoning. Whisk constantly, drizzling with vegetable oil and continue to whisk until the mixture is slightly thick. Stir in chopped fresh parsley and ginger. Add grated carrots to the bowl and toss well with dressing. Cover and refrigerate until ready to use. Enjoy!