Baked traditional apple pie recipe. A very easy and delicious apple pie cooked in an oven. Mouthwatering recipe! Do you want to bake this dessert faster? use an electric pressure cooker to cook it!
Baked Traditional Apple Pie Instant Pot
Makes 4 servings Ingredients: 1 1/2 teaspoons (8 ml) ground cinnamon, 1/2 teaspoon (3 ml) salt, 1/4 teaspoon 91 ml) ground nutmeg, 3 cups (750 ml) water, 1 cup (250 ml) oats, 1 large apple, cored and cubed
Instructions: in an electric pressure cooker, combine all ingredients. Stir well. Close the pot and lock the lid. Set the machine to cook to high pressure. Set the timer to cook at 15 minutes.
Turn off the pressure cooker. Using the natural Release method, bring pressure to normal. Carefully unlock and open the lid.
Remove baked apple pie from the pot and transfer to a serving plate. Allow cooling for 5 minutes. Enjoy. Looking for more tasty breakfast recipes? We have a huge collection of them, please check it out-Breakfast, also, please check out our popular dessert idea cooked in a slow cooker-Slow Cooker Orange-Glazed Baby Carrots Recipe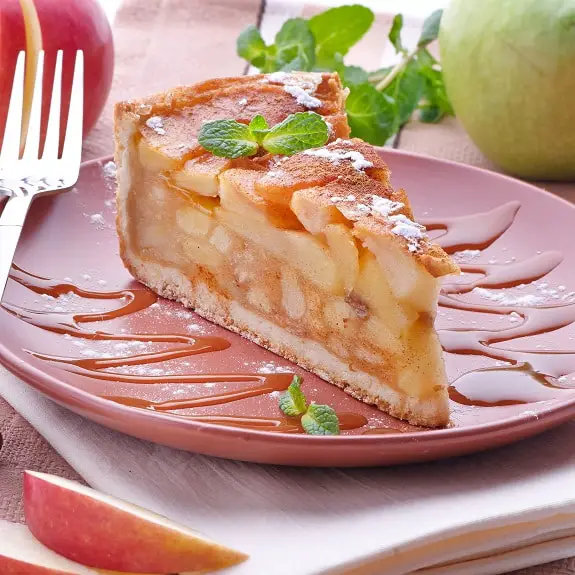 Ingredients
1 cup (250 ml) plain flour

pinch of salt

4 oz (120 g) unsalted butter

1 1/2 pounds (720 g) cooking apples, peeled, cored, and sliced

4 tablespoons (60 ml) brown sugar

1/2 teaspoon (3 ml) ground cinnamon

1/4 teaspoon (1 ml) ground nutmeg

1/4 teaspoon (1 ml) ground cloves

2 oz (60 g) sultanas

milk

1 tablespoon (15 ml) caster (superfine) sugar
Instructions
Preheat the oven to 400º F (200º C).
In a small mixing bowl, sift the flour and salt together. Rub in the butter, then add enough water to mix to a firm dough.
Add sliced apples, brown sugar, spices, and sultanas. Mix well.
Put the mixture in buttered pie dish. Sprinkle over about 30 ml ( 2 tablespoons) of water.
Roll out the dough and cover the pie. Brush with the milk, then sprinkle with caster (superfine) sugar.
Bake in preheated oven for about 20 minutes, then reduce heat to 350º F (175º C) and continue baking for a further 20 minutes.
Turn off the oven. Transfer baked the apple pie to a serving plate. Sprinkle with more ground cinnamon. Slice and serve warm