Chicken and mushroom tagliatelle recipe. Chicken breasts with mushrooms cooked in a pot and served over cooked Italian pasta. Healthy and tasty! You may also like Chicken Caesar Salad
Are you looking for more dinner ideas? We have a great collection of them, please check it out-Dinner
Chicken and Mushroom Tagliatelle Recipe
Cook Italian pasta according to packing direction. Using a colander, drain and set aside.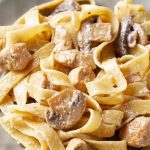 Ingredients
1 small yellow onion, peeled and quartered

3 boneless and skinless chicken breasts, cubed

2 sprigs fresh thyme

1 cup (250ml) water

2 tablespoons (30 ml) dry sherry

salt and freshly ground black pepper, to taste

1 pound (480 g) Italian pasta tagliatelle

1/2 pound (240 g) button mushrooms

2 garlic cloves, peeled and minced

4 tablespoons (60 ml) unsalted butter

1 tablespoon all-purpose flour
Instructions
Put onions, thyme, chicken, water, and sherry in a large saucepan. Season with salt and black pepper.
Bring the mixture to the boil over medium-high heat., then reduce heat to low and simmer for 15 minutes or until chicken is cooked through. Add more water during the cooking if necessary.
Drain cooked chicken and vegetables, reserving cooking stock.
In a frying pan, melt the butter over medium heat. Add sliced mushrooms and garlic. Fry stirring occasionally, for 5 minutes, or until mushrooms are softened. Stir in all-purpose flour and cook for a further 1 minute. Gradually add reserved broth, stirring all the time. Cook until the sauce thickened. Add chicken and vegetables and heat through.
Place cooked chicken and mushrooms on top of cooked pasta. Serve hot.