Glazed roasted shallots recipe. Fresh vegetables baked in an oven. An excellent vegetarian recipe. Very easy, healthy and delicious!
If you fry and caramelize shallots and garlic in a skillet, they lose their biting flavor. Wonderfully sweet and tender, they are almost like candy as far as I am concerned and are beautiful served as a side dish along with roast pork or lamb.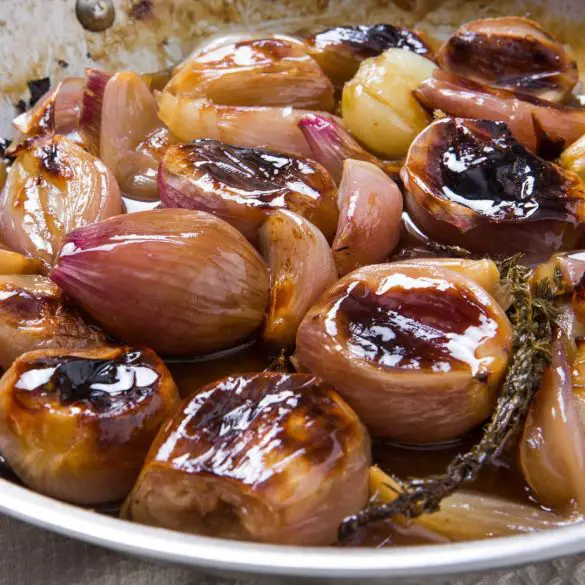 Ingredients
2pounds (960g) large shallots, peeled

1 head garlic (16 cloves) separated and peeled

1/2 cup (125 ml) defatted chicken broth

1 tablespoon freshly squeezed lemon juice

1 tablespoon granulated sugar

1/2 teaspoon salt

1/4 teaspoon freshly ground black pepper

1½ tablespoons unsalted butter
Instructions
Preheat the oven to 375º F (180º C).
Arrange peeled shallots and garlic in a single layer in a shallow baking sheet. In a small saucepan, combine chicken broth and lemon juice. Stir well and bring to a boil over high heat.
Pour the hot broth mixture over shallots and garlic, then sprinkle with sugar, salt, and black pepper. Cover the baking sheet with aluminum foil and bake in the preheated oven for 45 minutes.
Open the oven, carefully remove the foil, stir gently, and continue baking, uncovered, until shallots and garlic are very tender, for a further 20-30 minutes.
In a large nonstick skillet, melt unsalted butter over medium heat. Remove roasted shallots and garlic from the oven and add to the hot butter together with their cooking liquid. Increase heat to medium-high and cook, shaking the skillet often, until the shallots and garlic are golden brown and caramelized all over, for about 5-7 minutes.
Remove glazed roasted shallots and garlic from the skillet and transfer to a serving dish. Serve hot.