Thai pickled cucumbers recipe. Use these delicious spicy, and seedless cucumbers as a side dish.
Unlike all regular pickles, these thinly sliced cucumbers are salted first before they are infused with a piquant rice vinegar brine. There is a slight crispness to the texture, and they are always very welcome as a relish on the Thai table to enjoy atop cooked rice, noodles, or mashed potatoes.
Try to find the long seedless cucumbers as they will make the best ever pickles you've seen. If seedless cucumbers are not available, cut regular cucumbers lengthwise in half, then remove seeds before slicing.
Thai Pickled Cucumbers Recipe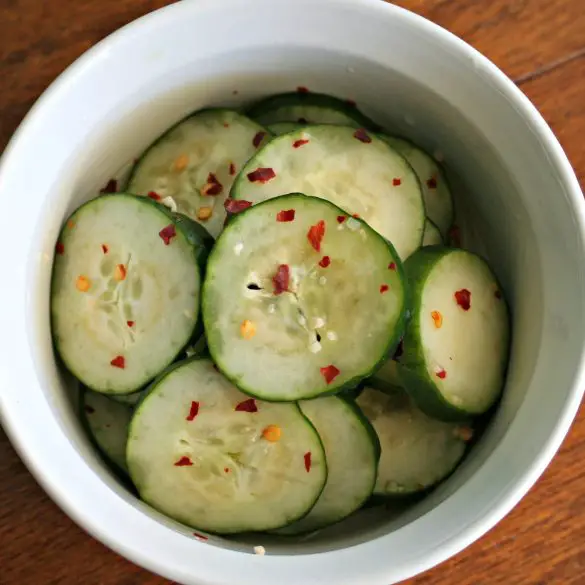 Ingredients
1 seedless cucumber, unpeeled, halved lengthwise, then cut crosswise into 1/8-inch (3 mm) slices

1 tablespoon (15 ml) coarse salt

1 cup (250 ml) rice wine vinegar

2 tablespoons (30 ml) light brown sugar

2-3 dried red chilies, deseeded and crushed
Instructions
In a large mixing bowl, combine sliced cucumbers and salt. Set aside and allow salting at room temperature for about 1 hour, tossing once or twice. Drain salted cucumbers well and return to the bowl. Meanwhile, in a small saucepan, combine the vinegar and brown sugar. Mix well, then stir in crushed red pepper. Cook over the low heat until the sugar dissolves, for about 1½-2 minutes. Remove the saucepan from the heat, set aside and cool to room temperature. Stir in the vinegar mixture to salted cucumbers and toss well. Let rest for a further 60 minutes. Drain and serve, or cover and refrigerate until ready to use. These are best served within 8 hours. Enjoy!