Instant pot bean and parsnip purée. Very easy and healthy vegetarian meal cooked in an electric pressure cooker. You may also like Healthy Lentil Soup
Please note, if you're cooking in a stovetop, adjust time for 8 minutes.
Instant Pot Bean and Parsnip Purée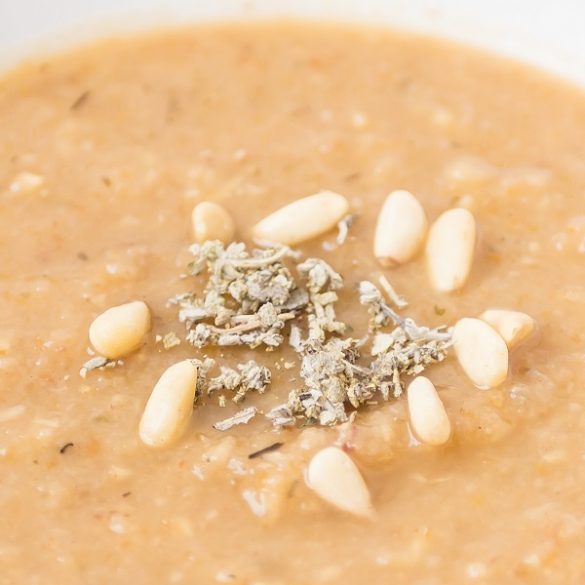 Ingredients
1½ cups dried navy beans, soaked overnight

2 large carrots, peeled and halved width wise

3 large parsnips, peeled, halved lengthwise, then cored

2 medium garlic cloves, peeled

1 small dried red chili pepper

1 bay leaf

1 medium lemon, peeled, peels reserved

1 tablespoon (15 ml) unsalted butter

2 tablespoons (30 ml) olive oil

1 medium shallot, minced

1 tablespoon fresh sage leaves

2 tablespoons (30 ml) freshly squeezed lemon juice

1 teaspoon freshly ground black pepper

1/2 teaspoon salt

1 teaspoon pine nuts
Instructions
Drain soaked beans in a colander set a sink.
In an 6-quart (6 L) electric pressure cooker, combine drained beans, carrots, parsnips, garlic cloves, red chili pepper, lemon peel, and bay leaf.
Pour in enough cold water, so that everything can be submerged.
Close the pot and lock the lid. Set the machine to cook at high pressure. Set the timer to cook for12 minutes.
Using the Quick Release method, bring pressure to normal. Carefully unlock and open the lid. Drain the contents of cooker into a large colander, reserving 1 cup (0.24 l) of cooking liquid. Discard beans and parsnips. Transfer them in a food processor  fitted with a chopping blade. Wipe out the pot.
In the instant pot turned to browning function, melt the butter in the hot oil. Add the shallot and sage leaves. Cook, stirring, for about 1 minute, or until shallots are softened. Transfer the mixture into the food processor.
Stir in the lemon juice, black pepper, and salt. Cover the food processor and process into the thick purée, adding reserved cooking liquid.
Remove bean and parsnip purée from the processor and transfer to a serving plate. Sprinkle with pine nuts. Serve imediately.