Instant pot keto ratatouille recipe. This famous recipe has so many benefits-keto friendly, low-carb, vegan, vegetarian, gluten free. Very delicious and healthy French recipe.
You may also like Instant Pot Keto Spinach and Artichoke Dip
Instant Pot Keto Ratatouille Recipe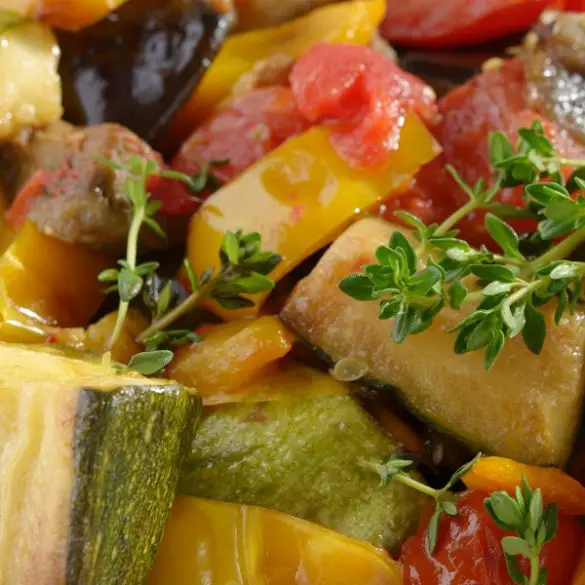 Ingredients
4 tablespoons (60 ml) olive oil, divided

1 large yellow onion, peeled and sliced

2 cloves garlic, peeled and minced

1 medium eggplant, cubed

1 yellow bell pepper, cored and cubed

2 medium zucchini, cubed

14 oz (420 ml) can low-sodium diced tomatoes

1 bay leaf

1 teaspoon dried thyme

1 teaspoon dried rosemary

salt and freshly ground black pepper, to taste

1 cup chopped fresh basil, optional
Instructions
Heat 1 tablespoon olive oil in an emetic instant pot turned to the sauté mode.
Add onions and garlic. Sauté, stirring occasionally, for 2 minutes, or until onions are slightly softened.
Add 2 more tablespoons oil, then place cubed eggplants and continue cooking for a further 4 minutes. Pour in remaining oil, then add bell pepper and zucchini. Cook for 1 minute longer.
Stir in diced tomatoes, bay leaf, herbs, then season to taste with salt and black pepper.
Close the pot and lock the lid. Set the machine to cook at high pressure. Set the timer to cook for 2 minutes.
Using the Quick Release method, bring pressure to normal. Carefully unlock and open the lid.
Discard bay leaf. Transfer ratatouille to a serving plate. Serve hot.