Instant pot keto spinach and artichoke dip. Very popular healthy keto diet (net carb-6 g) dip cooked in an electric instant pot.
You may also like Keto Banana Bread, another healthy meal cooked in the instant pot. Are you looking for more pressure cooker recipes? We have a huge collection of them, please check it out-Pressure Cooker Recipes
Instant Pot Keto Spinach and Artichoke Dip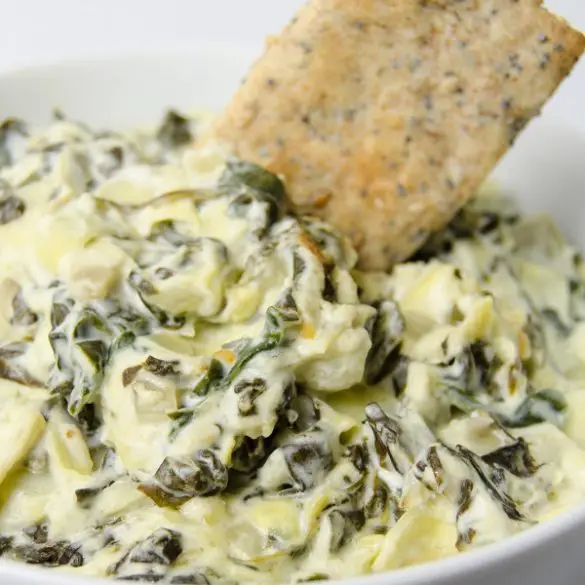 Ingredients
1/2 pound (240 g) cubed cream cheese

14 oz (420 ml) can artichoke hearts, drained and chopped

3 oz (90 ml) can jalapeño peppers, drained

10 oz (30 ml) package of frozen spinach, thawed and drained

1/2 cup (125 ml) sour cream

1/2 cup (125 ml) mayonnaise

1/2 teaspoon salt

1/2 teaspoon onion powder

1/2 teaspoon garlic powder

1/2 cup (125 ml) low-sodium chicken broth

3 cups grated Mozzarella cheese

1½ cups grated Parmesan cheese
Instructions
Using a colander, squeeze water form drained spinach.
In an electric pressure cooker, combine chopped artichokes, jalapeños, spinach, cubed cream cheese, sour cream, mayonnaise, salt, onion and garlic powders, and chicken broth. Mix well to combine.
Close the pot and lock the lid. Set the machine to cook at high pressure. Set the timer to cook for 4 minutes.
Using the Quick Release method, bring pressure to normal. Carefully unlock and open the lid.
Stir in shredded cheeses until melted and creamy.
Transfer the dip to a dip serving bowl. Serve with crackers, raw vegetables, such as baby carrots, celery, cucumbers, etc.