Instant pot keto banana bread recipe. Very easy, moist, keto friendly, and low-carb (net 3 g) dessert cooked in an electric instant pot.
You may also Instant Pot Keto Pumpkin Soup
Instant Pot Keto Banana Bread Recipe
I used very ripe bananas to make this yummy bread.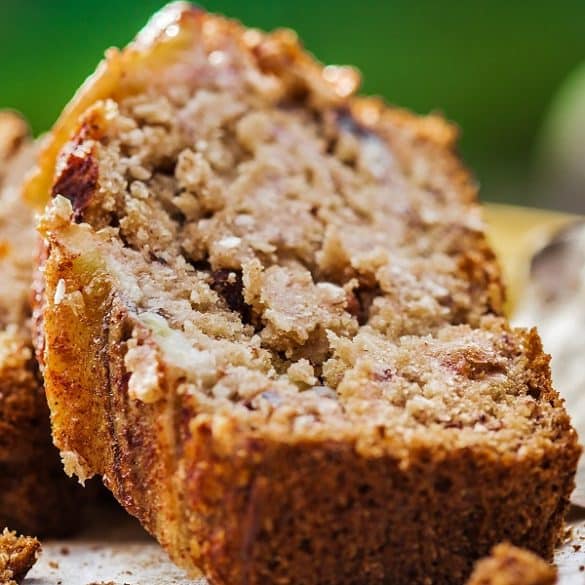 Ingredients
2 cups low-carb baking mix

2-3 ripe bananas, peeled and mashed

2 large eggs, beaten

2 tablespoons unsalted softened butter at room temperature

1/3 cup unsweetened apple sauce

1/4 cup stevia sweetener

1/4 cup chopped nuts

1½ teaspoons baking soda

1/2 teaspoon salt
Instructions
In a large mixing bowl, combine stevia sweetener, butter, applesauce, and beaten eggs. Using a mixer, beat until smooth, scraping the sides of the bowl and making sure everything if fully mixed.
Stir in mashed bananas and mix to combine.
In a small mixing bowl, combine all dry ingredients. Stir well, then add dry mixture to the banana mixture. Beat until well combined. Stir in chopped nuts.
Grease the 7-inch (17.5 cm) pan with nonstick cooking spray. Add the batter to the greased pan. Top with aluminum foil.
Pour 1 cup (250 ml) water into electric pressure cooker.  Place a trivet.
Make a foil handle to remove the pan from the cooker.
Fold a large piece of aluminum foil in half, then place the foil handle in the pot.
Arrange the pan with batter in the middle of the cooker over the foil handle.
Close the pot and lock the lid. Set the machine to cook at high pressure. Set the timer to cook for 50 minutes.
Using the Quick Release method, bring pressure to normal. Carefully unlock and open the lid.
Remove the baking pan from the cooker and transfer to the rack. Allow to cool.