Instant pot keto taco soup recipe. Healthy and delicious taco soup cooked in an electric instant pot.
You may also like Instant Pot Keto Lemon-Garlic Chicken
Instant Pot Keto Taco Soup Recipe
Are you looking for delicious pressure cooker recipes? We have a huge collection of them, please check it out-Pressure Cooker Recipes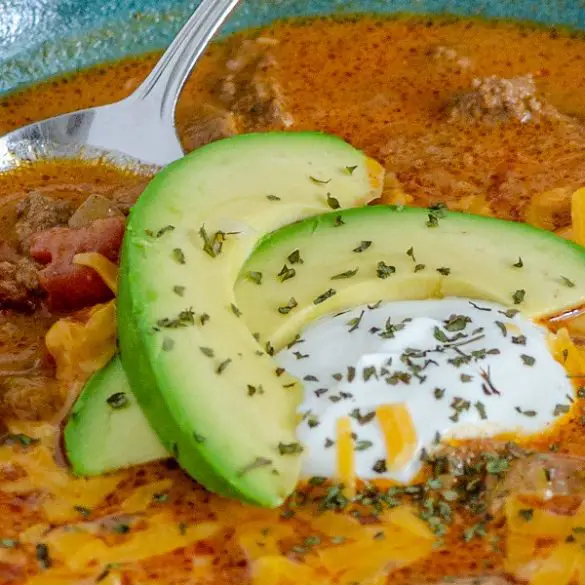 Ingredients
2 pounds (960 g) lean ground beef

olive oil

1 tablespoon onion flakes

4 cloves garlic, peeled and minced

2 tablespoons chili powder

2 teaspoons ground cumin

20 oz (600 ml) diced tomatoes with chilies (Rotel)

4 cups (1 L) beef broth

salt and freshly ground black pepper, to taste

8 oz (240 ml) cream cheese

1/2 cup (125 ml) heavy cream

1 ripe avocado, sliced

shredded Cheddar cheese

cumin seeds (optional)
Instructions
Heat the olive oil in an electric instant pot turned to sauté mode.
Add ground beef and cook until browned. Drain excess grease. Stir in onion flakes, chili powder, ground cumin, tomatoes, beef broth, and seasoning.
Close the pot and lock the lid. Set the machine to cook at high pressure. Set the timer to cook for 10 minutes.
Using the natural Release method, bring pressure to normal. Carefully unlock and open the lid.
Stir in cream cheese and heavy cream.
Top with sliced avocado, shredded cheese. Sprinkle with cumin seeds (optional) Serve hot.