Instant pot roasted garlic recipe. Garlic cloves baked in an electric pressure cooker and then roasted in an oven. Very healthy and easy!
You may also like Manchow Noodles, another healthy and tasty recipe cooked in a pressure cooker.
Instant Pot Roasted Garlic Recipe
Equipment you need-electric pressure cooker, trivet.
How to Use Instant Pot Roasted Garlic
The roasted garlic is perfect base for many dishes, such as Roasted Garlic Soup, Mexican Guacamole, mashed potatoes, and much, much more.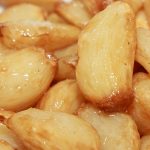 Ingredients
3-6 full bulbs of garlic, fully intact with the top sliced off

extra virgin olive oil, divided
Instructions
Pour 1 cup (250 ml) water into an electric instant pot. Arrange the trivet, then place garlic bulbs, cut-size facing-up.
Close the instant pot and lock the lid.
Set the machine to cook at high pressure. Set the timer to cook for 5 minutes.
Using the Natural Release method, bring pressure to normal. Carefully unlock and open the lid.
Preheat the oven to 450º f (225º C). Remove baked garlic bulbs for the pressure cooker and transfer on a foil-lined baking sheet. Drizzle the olive oil over each garlic bulb. Bake in the preheated oven for 5-10 minutes or until garlic bulbs are nicely browned.
Turn off the oven. Remove baked garlic from the oven and transfer to a serving plate. Allow to cool.