Slow cooker baked mushrooms recipe. Mushrooms with vegetables and herbs baked in a slow cooker. You may also like Baked Zucchini Casserole, another delicious vegetarian recipe.
Are you looking for delicious slow cooker recipes? We have a great collection of them, please check it out-Slow Cooker Recipes
Slow Cooker Baked Mushrooms Recipe
Equipment you need to make this rcipe-3-quart (3 L) slow cooker. Also, I recommend to use low-sodium vegetable broth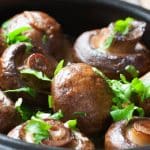 Ingredients
1½ pounds (720 g) cremini mushrooms

4 cloves garlic, peeled and minced

1/2 teaspoon dried basil

1/2 teaspoon dried oregano

1/4 teaspoon dried thyme

2 bay leaves

1 cup (250 ml) low-sodium vegetable broth

kosher salt and freshly ground black pepper, to taste

1/4 cup (60 ml) half-and-half (optional)

2 tablespoons unsalted butter (optional)

chopped fresh parsley
Instructions
In a 3-quart (3 L) slow cooker, combine mushrooms, herbs (except parsley), and garlic. Mix well.
Stir in low-sodium vegetable broth.
Cover the pot and cook on low-heat setting for 3-4 hours or until browned and tender.
If you use half-and-half and butter, stir them during the last 25 minutes.
Turn off the crock pot and open the lid. Discard bay leaves. Remove baked mushrooms from the cooker and transfer to a serving plate. Sprinkle with chopped fresh parsley. Serve hot.